There were brief handover periods to inexperienced staff, infection control breaches and missed meals and medications the day staff at St Basil's Home for the Aged were furloughed, a stood down team member has this week told an inquest into 50 deaths at the home.
St Basil's Home for the Aged in Victoria, a 150-bed aged care facility in the Melbourne suburb of Fawkner, had 117 residents and around 120 staff in July 2020.
The home recorded its first positive COVID-19 case of Victoria's second wave in a staff member on 8 July 2020 and 188 positive cases in total among residents (94) and staff (94).
Victoria coroner Judge John Cain is investigating the deaths of 50 of the home's residents in July and August, including 45 residents who died with COVID-19.
All staff at St Basil's were deemed close contacts and stood down on 21 July 2020 by order of the Victorian Chief Health Officer. This led to a serious decline of resident care, Counsel Assisting the five-week coronial inquest Peter Rozen said in opening statements on 15 November.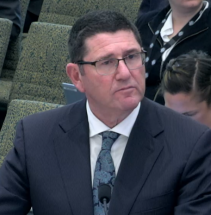 "The basic needs of the many highly dependent residents were neglected to a point that a number presented at hospital dehydrated, malnourished, suffering from serious pressure sores and in very poor general health, in addition to being COVID-19 positive," Mr Rozen said.

On the sixth day of hearings, the inquiry heard from Connie Apidopoulos, a cook and kitchen hand of nine-and-a-half years at St Basil's, about the instances of poor care and inexperienced staff she witnessed on that "unforgettable" day.
Ms Apidopoulos said when she arrived at work at 7am on 22 July her supervisor told her to handover to a replacement staff and be out of the kitchen by 11'o clock.
She said the task involved handing over to one inexperienced worker.
"I will never forget that day," Ms Apidopoulos told the inquiry on Monday.
During the handover, Ms Apidopoulous said the staff member appeared stressed when she showed the folders with different dietary and fluid requirements.
"I saw she was getting all tense and everything," Ms Apidopoulous said. "I asked her how long have you been working doing job? [It] was the first time, she said."
Ms Apidopoulous said she was worried about the short period she had for handover, but her supervisor said "that's [as] much [as] we can do."
Infection control breach
After 11am, all St Basil's staff were told to wait in the home's lounge for further information.
Ms Apidopoulous said the St Basil's staff were watching the new staff members work and witnessed infection control breaches.
"They [were] doing wrong things, getting trays from the infected rooms – and we knew who they are – and we did have an outside trolley with all the rubbish to empty all the trays to be [put on] in the disinfected containers and they never did those things. They put it through the kitchen," she said.
Ms Apidopoulous said she told one of the staff members to not put the trays from infected residents' rooms into the kitchen.
"I said 'please don't put the tray in the kitchen, at least the kitchen is clear, not infected'. And she said 'I know what I'm doing I'm the nurse in charge'," Ms Apidopoulous said.
Missed meals, medications
At 1.30pm, residents were asking St Basil's staff members where their food and medication, one-and-a-half hours after their scheduled midday lunchtime, Ms Apidopoulous said.
"They were coming out from their rooms looking very [stressed] looking for their medication, looking for their food," she said.
Ms Apidopoulous said she had to reassure residents that their food and medications were on their way.
When Ms Apidopoulous returned to work at the facility after more than two weeks she said she found food smelling and rotting in the fridge and the thickened liquids she had prepared on the day staff were furloughed still there.
"It was still my writing and the date. Everything was the same the way I left it," she said.
The inquiry continues until 15 December.
Comment on the story below. Follow Australian Ageing Agenda on Facebook, Twitter and LinkedIn, sign up to our twice-weekly newsletter and subscribe to AAA magazine for the complete aged care picture.