The federal government has spent less than a third of the $101 million allocated to provide a temporary surge workforce for aged care providers, but that's included some 'eye-watering' tenders, a Senate inquiry has heard.
The Senate Select Committee on COVID-19 held a public hearing on 29 September into the aged care sector's response to the coronavirus pandemic.
The inquiry heard that only $31,624 million of government funding has been spent on providing a surge workforce to assist aged care providers who have lost staff as a result of COVID-19.
This is from a $101.2 million funding package that was announced in March, which aimed to help providers to access training, additional staff and in-facility testing for coronavirus and flu (read more here).
Department of Health deputy secretary Michael Lye said nationally, almost 30,000 shifts have been filled through the surge workforce.
"Across our providers, we've filled nearly 30,000 shifts and supplied more than 4,000 workers," Mr Lye told the inquiry.
Mr Lye said among the organisations that are providing a surge workforce to outbreak sites across Australia include Aspen, Healthcare Australia, HealthX, Mable, RCSA and Torrens.
Senator Rachel Siewert questioned the health department specifically about Mable's $5.8 million five-month contract.
Department of Health acting first assistant secretary, aged care reform and compliance Amy Laffan confirmed the workforce platform's contract is now $6.6 million.
"It was due to additional services which we asked Mable to perform, including concierge services," Ms Laffan said.
Ms Laffan said Mable has supplied 130 contractors and filled 2,644 shifts nationally as of 25 September.
Ms Laffan said the department is in negotiations with Mable to extend its contract, which expired on 30 September.
Questions raised about value for money
Elsewhere, chair of the inquiry Senator Katy Gallagher asked Dr Brendan Murphy was asked what he was doing to ensure the health department's money has being spent properly.
"A lot of money has left your department—in exceptional circumstances, I accept—through limited tender arrangements," she said.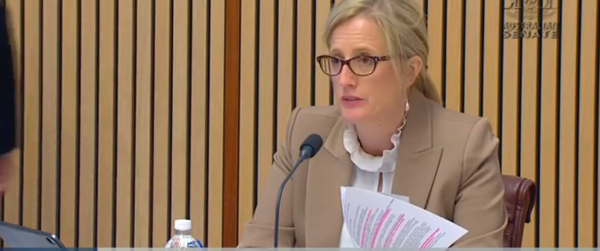 "Some of the contracts that have gone out are eye-watering in terms of the amount of money for a period of time, and it's difficult to actually elicit from AusTender what the deliverables were," Ms Gallagher said.
She provided Mable as an example.
"When I look at Mable, if it is $6.6 million over five months and it has delivered to 2,644 shifts—and I'm sure it is being paid for doing other things—that would equal about $2,500 per shift that you are paying for, which would seem extraordinary in aged care, when we know that their wages are so low normally," Ms Gallagher said.

Department of Health secretary Dr Murphy said the health department has internal audit processes.
"We will use our internal audit processes to look at a number of these programs. For a number of these programs, while there is a dollar amount that is allocated, it is not finally determined what will have been spent until we get all of the acquittals," Dr Murphy said.
"With a number of those eye-watering amounts that you talk about, we won't know how much will be spent until we get all the claims and go through the process of acquittal. Many of them will be underspent, and we have already repurposed some of the funding from some programs to others," he said.
Comment on the story below. Follow Australian Ageing Agenda on Facebook, Twitter and LinkedIn, sign up to our twice-weekly newsletter and subscribe to AAA magazine for the complete aged care picture.