The department will publish aged care resident vaccination rates at the facility level from next month in a bid to increase the uptake of the second booster dose, Minister for Aged Care Anika Wells has told providers.
Ms Wells has also encouraged providers to pre-assess residents for eligibility for COVID antiviral medication now so they can be rolled out immediately if needed.
More than 1,000 people joined Monday's webinar to hear Ms Wells, the deputy chief medical officer and representatives from the Department of Health and Aged Care provide an aged care COVID-19 update.
There are now 918 aged care facilities with active COVID-19 outbreaks, up from 737 a week ago, providers heard.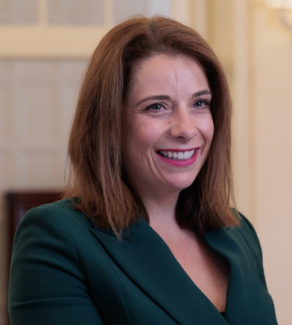 "We must remain on the front foot now as we face another wave of COVID-19," Ms Wells told providers. In terms of priorities, she said the government was working with vaccination providers to ensure aged care homes and residents can access to booster doese.
"I was really pleased to hear that we have had an uptick with those vaccinations in the past few weeks and it is vital that we keep that going."
Minister for Health and Aged Care Mark Butler told a press confernce on Tuesday that 76 per cent of eligible residents have now received a fourth dose, up from 70 per cent on 14 July and about 52 per cent a few weeks ago.
To further increase uptake, Ms Wells has asked the department to contact providers to urge and assist them to book outstanding winter doses for residents, and to publicly publish resident vaccination rates from 1 August.
"The department will be publishing those rates at a facility level – de-identified rates for residents – to further drive those vaccination rates. Increasing those rates will be our best line of defence for this winter wave. That goes for any workers over 30 as well as now that we have expanded eligibility," Ms Wells told providers.
"That's currently at 918 reported residential aged care facilities with active outbreaks compared to 737 just a week ago, so you can see that we're seeing a very rapid increase."

Professor Michael Kidd
The next line of defence is treating those infections that arise, she said. Since last weekend, the government has expanded eligibility for subsidised antiviral treatments to all people over 70 regardless of symptoms or risk factors.
"I urge you if you haven't already to discuss and to pre-assess your residents for eligibility for antivirals as swift use of antivirals can reduce the severity of the virus," Ms Wells said.
Ms Wells also encouraged people working in aged care to read the government's winter plan for the sector, which was launched last Thursday.
Providers told to offer antivirals quickly, watch for false negatives

Deputy chief medical officer Professor Michael Kidd also told providers to seek residents' consent for antiviral treatments now.
He said "the standard of care now in every aged care facility is that if a resident has positive COVID 19, they should be offered antiviral treatments straight away. So please make sure that is what you're doing. We know these oral antiviral treatments are saving lives by preventing people from becoming severely unwell with COVID-19, needing hospitalisation, or dying as a result of symptoms of COVID 19," Professor Kidd told providers.
"We've seen a rise in the number of resident cases of 8,000 just in the last week, and a rise in staff cases of 4,000 just in the last week."

Professor Michael Kidd
He said COVID cases and hospitalisations were rising "very dramatically" across the country with 4,600 people hospitalised with COVID 19, up from 3,200 a week ago. Similarly, Professor Kidd described a rapidly worsening situation in aged care.
"We're also seeing a very significant rise in the number of residential aged homes managing active outbreaks, and that's currently at 918 reported residential aged care facilities with active outbreaks compared to 737 just a week ago, so you can see that we're seeing a very rapid increase."
Since the start of the pandemic, there's been over 66,000 cases of COVID-19 among residents and over 48,000 staff cases in total. "We've seen a rise in the number of resident cases of 8,000 just in the last week, and a rise in staff cases of 4,000 just in the last week," Professor Kidd said.
However, these residential aged care cases account for 1.3 per cent of all the cases in Australia, he said.
Professor Kidd also encouraged providers to seek a PCR test for symptomatic residents who test negative on a RAT due to an "increase in false negative test results from rapid antigen tests".
"If you have a resident aged 70 who has any symptoms that may be COVID-19 – aches and pains, fever, tiredness, runny nose, cough, breathing [difficulties] – and they have a negative rapid antigen test, please arrange an urgent PCR test, because it's highly likely they have COVID," he said.
"And it's very important these antiviral treatments are started as quickly as possible, ideally on the day that somebody tested positive." The treatments need to start within five days for them to be effective and are most effective when started as early as possible and before people become significantly unwell, he said.
Providers told to access antivirals from their pharmacy
Professor Kidd said the government was not considering another mass deployment of antiviral treatments to aged care homes at this stage and that providers should instead reach out to their local pharmacy as almost "every community pharmacy in the country now should be carrying stock of these treatments".
"It's very important that the local community pharmacist who is providing pharmaceutical to your residents is involved in the dispensing of these treatments. It just adds an extra layer of quality and safeguarding with the prescribing and dispensing of these treatments," he said.
"If you get an outbreak of COVID 19, I suggest you advise your community pharmacy. If they don't have treatments already in stock, they can order those from their wholesaler and they will be delivered very quickly; usually within a few hours, but certainly within 24 hours."
Providers urged to roll out boosters as residents become eligible
The department will publish the facility vaccination rates via an interactive map in percentage bandwidths, such 90 – 100 per cent, which will vary depending on the number of residents in a facility.
The map will draw the data from the Australian Immunisation Register so there's nothing that providers need to do, Deputy Secretary for Ageing and Aged Care Michael Lye said. Providers have been informed now so they have time to book vaccination clinics ahead of the 1 August start date, he said.
"We're asking you to think about the way that you can most quickly vaccinate every resident."

Michael Lye
Residents are eligible for an additional winter booster dose three months after an initial booster, or three months after a confirmed COVID-19 infection where this occurred after an initial booster dose.
"When planning COVID-19 clinics offering an additional booster to eligible residents, facilities can organise clinics to be delivered through Commonwealth vaccination providers and or primary care providers. And facilities are able to request multiple return Commonwealth in-reach clinics, as well as request GPs and pharmacists to vaccinate residents as they become eligible," Mr Lye said.
"We understand people who've had COVID are becoming eligible at slightly different times, but we're asking you to think about the way that you can most quickly vaccinate every resident who is eligible because of the importance that the vaccination booster offers to them in terms of protection from COVID."
In case of an outbreak, residential and home care providers can access the Aged Care Support Program Extension Grant, which has been extended until January 2023, to seek reimbursement for the direct costs of managing COVID-19, such as additional staff costs, PPE or RATs.
Comment on the story below. Follow Australian Ageing Agenda on Facebook, Twitter and LinkedIn, sign up to our twice-weekly newsletter and subscribe to AAA magazine for the complete aged care picture.