When:
June 26, 2018 – June 28, 2018
all-day
2018-06-26T00:00:00+10:00
2018-06-29T00:00:00+10:00
Where:
Pullman Melbourne on the Park
192 Wellington Parade
East Melbourne VIC 3002
Australia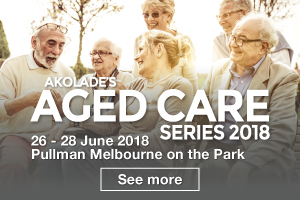 Akolade's portfolio of aged care and retirement living events are designed to help those working in residential aged care & community home care, retirement villages, not for profits and government professionals cope with the ongoing reforms and changing sector landscape.
Technology in Aged Care Forum
Amidst the challenges of an evolving sector, aged care facilities have now been tasked with integrating technology as a core part of operations and service delivery by the Aged Care Technology Roadmap.
This forum will focus on:
– Supporting consumer-centred care
– Integrating technology to support business growth
– Using patient data to inform service strategies.
Aged Care Workforce Forum:
It has been estimated that the aged care workforce will need to grow from around 366,000 to 980,000 by 2050 to meet the needs of Australia's ageing population. However, the aged care sector is facing significant challenges in attracting and retaining a skilled workforce.
This forum will explore:
– Solutions to recruit, engage and sustain new streams of talent
– Strategies to improve job quality and transform workplace culture
– How to ensure the delivery of quality customer-centric services.
Retirement Living Forum:
As the population ages and Australia's baby-boomers reach retirement, the demand for affordable retirement living options is higher than ever.
This forum will be exclusively dedicated to:
– Improving outcomes for retirement villages and their residents
– Exploring the most pressing sector challenges
– Key solutions for success, service innovations and directions for business growth.
Summit website: http://bit.ly/AGEWPXA1
AAA subscribers can quote VIP code WPXA1 when registering to secure the best possible rates.
Please contact Akolade for more information on:
Phone: 02 9247 6000
Email: registration@akolade.com.au