When:
April 27, 2023 – April 28, 2023
all-day
2023-04-27T00:00:00+10:00
2023-04-29T00:00:00+10:00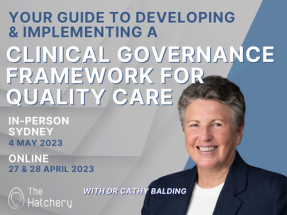 Your clinical governance framework is the backbone of quality care delivery.
Clinical governance is not just a requirement of the Quality Standards; it is an essential part of the effective operation of Aged Care Services. But clinical governance is often implemented as a series of tasks that don't have the desired point of care impact. In these times of governance reform and increasing compliance, fulfilling clinical governance requirements can distract your organisation from point of care. Getting the intent, purpose and content right is the difference between a clinical governance framework that ticks boxes, and one that is your organisation's go-to guide for creating high quality care with consumers.
In this interactive Masterclass, Dr Cathy Balding will lead you through developing a strategic and purposeful clinical governance framework to drive quality care improvement. Drawing on evidence and experience of what works, this Masterclass will present a different perspective on how your clinical governance framework can be crafted and operationalised to make a real point of care difference for consumers and staff.