When:
August 3, 2021 @ 1:00 pm – 4:00 pm
2021-08-03T13:00:00+10:00
2021-08-03T16:00:00+10:00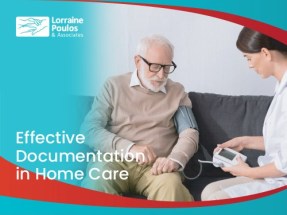 In this webinar, you will come away with a clear understanding of how and when to document for quality of care, meet your legal responsibilities and your organisation meets its compliance responsibilities. You will have consistency of practice within your team.
What will this webinar include?
Legislative and legal considerations regarding documentation in Home Care
Real case studies of what can go wrong
Requirements in the Aged Care Quality Standards and NDIS Practice Standards
Policy and procedures regarding documentation
ISBAR/SOAP methodology for documentation
Using electronic records
Advice on how and why to document for a variety of documentation systems
Tips to streamline documentation without sacrificing accuracy
Documenting using objective methods
Consumer rights and safety
Processes for managing confidentiality and privacy of records
Documenting special situations
Common documentation errors and terminology to avoid
Contemporaneous recording of clinical information
Documentation that enables monitoring of quality of care