When:
May 12, 2022 @ 4:00 pm
2022-05-12T16:00:00+10:00
2022-05-12T16:15:00+10:00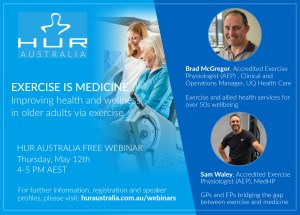 HUR Australia Webinar on May 12th discusses the benefits of proper exercise prescription to gain the best health and wellness benefits.
Exercise is Medicine" is a world-wide concept that hopes to improve the health of all via exercise, aiming to make physical activity a standard part of chronic disease prevention and management programs. Exercise is also key to happy and healthy ageing with research evidence showing the health benefits of exercise for seniors, including benefits for physical and mental health as well as wellbeing, cognition, falls prevention, and even lifespan.
To get the best benefits of exercise, truly using exercise as medicine, right prescription is required, looking at the frequency, intensity, time and type of exercise (FITT principle). With the proper prescription on how hard and long one should exercise, great goals can be achieved.
The speakers of this webinar have experience from clinics where exercise is treated as medicine and is supported by all allied health and medical teams. Brad McGregor is an Accredited Exercise Physiologist (AEP) and is the Clinical and Operations Manager at UQ Health Care, a multidisciplinary service promoting longevity and wellbeing for the over 50s. Sam Waley is an AEP and Director at MedHP, a health and wellness hub designed specifically for over 50s, where general practitioners and exercise physiologists collaborate on health management.