When:
April 28, 2016 – April 29, 2016
all-day
2016-04-28T00:00:00+10:00
2016-04-30T00:00:00+10:00
Contact:
Arinex Pty Ltd
+61 2 9265 0700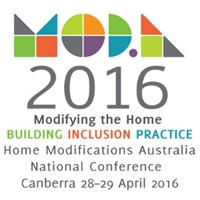 On behalf of the Organising Committee it is our immense pleasure to invite you to join us for the Home Modifications Australia (MOD.A) National Conference taking place from 28-29 April 2016 at the National Convention Centre in Canberra.
This Conference is an exciting opportunity for delegates to hear about the latest in home modifications and to network and share their knowledge with other providers in the sector. The programme will include (international) plenary speakers, oral presentations across different themes and an extensive trade and exhibition component.
This years' Conference – Modifying the Home: Building-Inclusion-Practice – will highlight the latest research and evidence-base available in the home modification sector, bring together some of the world's most prominent experts in the field, highlight innovative service providers and provide an opportunity for delegates to inform future policy directions in aged and disability care.
Canberra provides a beautiful location for our national conference and April is the perfect time to visit the nation's capital. Be sure to join our mailing list below for conference updates. We look forward to welcoming you to Canberra.
Michael Bleasdale
MOD.A 2016 Conference Chair
CEO, Home Modifications Australia
For further information visit the Conference website at http://moda2016.org.au/
Conference Managers
Arinex Pty Ltd
ABN 28 000 386 676
Level 10, 51 Druitt Street, Sydney, NSW 2000
Ph: +61 2 9265 0700
Fax: +61 2 9267 5443
moda2016@arinex.com.au