When:
October 15, 2017 – October 18, 2017
all-day
2017-10-15T00:00:00+10:00
2017-10-19T00:00:00+10:00
Where:
Gold Coast Convention Centre and Exhibition Centre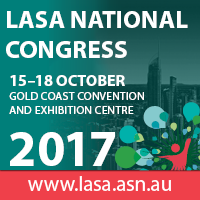 LASA's National Congress, Ahead of the Game, Age Services – strong, bold, brave will be held on the Gold Coast 15-18 October. 2017. Every part of the age services industry has been responding to significant systemic change. To succeed in this environment, it's essential that providers be ahead of the game.
Being 'ahead of the game' is about accessing new ideas, business strategies and care models as they are developing. It's a time when industry leaders can share insights into company led initiatives and a place for all stakeholders to come together, challenge the status quo and explore the possible. This will ensure our industry continues to raise the bar in pursuit of leadership and excellence.
LASA National Congress 2017 is the place to do business, as the largest age services networking event in the southern hemisphere, it is the place where leading edge thinkers and providers meet to challenge their assumptions, and open their horizons to new ideas and approaches.
LASA National Congress is a place to come and 'work on the business', and to 'do business'- meet colleagues, suppliers, and advisors as well as key policy and decision-makers. Most importantly, it's the place to make new connections that will help you get ahead of the game.
LASA invites all industry stakeholders to consider the theme for the age services industry's 2017 National Congress and consider engaging in leading edge thinking and practice that will ensure a high performing, sustainable, and respected industry effectively meeting the needs of older Australians.
National Congress primarily attracts high-level industry executives including Chief Executive Officers, Chief Operating Officers, Chief Financial Officers, Board Directors, Business Development and Sales Managers, and Directors of Nursing, in addition to policy makers, academics and thought-leaders across the broader age services industry.
LASA Events, Leading Age Services Australia
Phone: 1300 111 636
Email: events@lasa.asn.au
Website: www.lasacongress.asn.au