When:
October 27, 2019 – October 29, 2019
all-day
2019-10-27T00:00:00+10:30
2019-10-30T00:00:00+10:30
Where:
Adelaide Convention Centre
North Terrace
Adelaide SA 5000
Australia

As we stand on the precipice of a new era of ageing in Australia – an era driven by changing community expectations, a dynamic political environment, the Royal Commission, and by our own industry – Leading Age Services Australia (LASA) continues to spearhead the cultural and operational innovation and change necessary to deliver better ageing futures for all Australians.
LASA's National Congress 2019 Better Ageing Futures – It's in our hands will have a sharp focus on how our industry can lead and drive the transformation of age services, from an aged care mindset to a truly person-centred industry, supporting Australians to age well.
The Baby Boomer generation is powering the growth in the number of older Australians and their changing expectations – evidence of Australia's success in enabling people to live longer, healthier and more productive lives.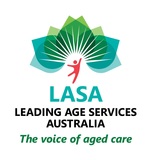 To deliver on these expectations we must ensure that as a society, and as an industry, we offer meaning and purpose to the lives of older Australians and provide support that encompasses not just physical health but psychological, emotional, spiritual and social wellbeing, along with connection to family, friends and the community.
Underpinned by a world class, three-day program of learning and networking, LASA National Congress will offer global perspectives, best-practice keynotes, and interactive, thought-provoking discussions, designed to empower our industry to actively embrace future opportunities and become the change we want to see.
Join us on this journey to Better Ageing Futures for all Australians.
Visit the Congress website for more information.
LASA Events
E: events@lasa.asn.au
T: 07 3725 5588
T: 1300 111 636
W: www.lasacongress.asn.au