When:
April 23, 2018 @ 5:57 am – 6:57 am
2018-04-23T05:57:00+10:00
2018-04-23T06:57:00+10:00
Where:
Hilton Sydney
488 George St
Sydney NSW 2000
Australia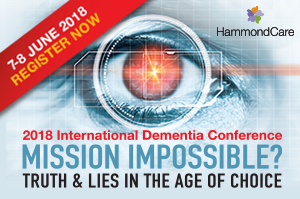 We live in an age of option, we have choices presented to us in myriad forms every day—but are they really choices? The decisions we make, and more importantly those that others make for us, can constrict us in ways that may not be immediately visible.
'Mission Impossible' challenges us to take a step back and examine the realities of choice under the microscope, to discuss and debate what it truly means for older people and those living with dementia. From pain to palliative care, arts and wellbeing to clinical treatments, our speakers will be addressing a diverse range of themes.
The conference will provide a platform for the international and Australian community to share new research, experiences and evidence-based practices in plenary talks and concurrent sessions, with over 50 speakers confirmed.
Speakers including Professor Sheena S. Iyengar, inaugural S.T Lee Professor of Business at the Columbia Business School, considered one of the world's leading experts on choice, will be sharing research. Dr. Iyengar's core research focuses on the psychology of choice and decision-making, addressing how humans face challenges in a world where they are inundated with options.