When:
September 19, 2019 – October 28, 2019
all-day
2019-09-19T00:00:00+10:00
2019-10-29T00:00:00+11:00
Where:
Capital Cities & Regional Centres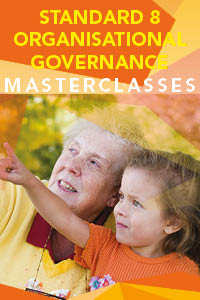 Standard 8 Organisational Governance recognises the board as having overall responsibility for aged care services delivery and will hold it ultimately accountable for the quality and safety of care and services. This is a game changer for boards.
In partnership with Aged & Community Services Australia (ACSA) Australian Strategic Services invites you to join Michael Goldsworthy for unique corporate governance and organisational governance insights that will strengthen your organisation's response to the Requirements of Standard 8.
Masterclasses will focus on:
·         Corporate Governance v Organisational Governance
·         Assessing Your Board's Corporate Governance & Organisational Governance
·         Standard 8, Components & Considerations
·         Standard 8, Realities and Practicalities
·         Standard 8, Implications for Directors & Key Personnel
·         Standard 8, Practical Steps & Activities
To meet or exceed Standard 8 leadership teams (board, CEO and executives/senior managers) must have a collective appreciation of Standard 8 and a commitment to the agreed strategies and projects for implementation. All individuals in a leadership team are strongly encouraged to attend.
"The workshop was excellent. Michael is a great facilitator. Materials generously provided were high quality and valuable. Thank you"
"Michael is very informative and always willing to share. Learned a lot."
"Fabulous. Informative and practical, unique insights into Standard 8."
Participant feedback from Michael's Sydney, Hobart and Launceston masterclasses.
Link to Download the NSW/ACT/QLD Flyer
Link to Register for NSW, ACT or QLD Masterclasses
Link to View Australian Strategic Services Standard 8 Organisational Governance Services
Questions – office@asspl.com.au or 03 54 296 331