When:
2018-06-15T00:00:00+10:00
2018-06-16T00:00:00+10:00
Where:
Seniors Rights Service
4/418a Elizabeth St
Surry Hills NSW 2010
Australia

Contact:
Thomas Linnane (Media and Communications Assistant, Seniors Rights Service)
(02) 9281 3600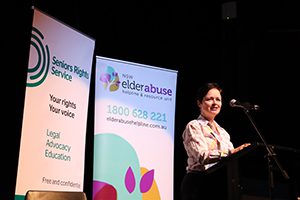 Building on the work of the NSW Government, a NSW-focused World Elder Abuse Awareness Day event will be held at Seniors Rights Service, who hosted the 5th National Elder Abuse Conference in February.  The event provides an opportunity for Minister Davies to highlight the continuing progress and commitment of the NSW Government on the issue of elder abuse, and other key leaders to highlight their plans and work to prevent and respond to elder abuse. This leverages the engagement and focus received as part of the 5th National Elder Abuse Conference, while highlighting the particular focus and trajectory of NSW responses. The timing is relevant to the commitment to, and participation in, the development of the National Elder Abuse Plan. The event includes the NSW Minister for Ageing Hon Tanya Davies MP launching the 'Community Elder Abuse Resource Project' – including the set of videos and adult learning tools developed by Ellen Fanning and Jenny Bray.  Community members and key stakeholders have been invited, and the launch will be followed by a panel-style facilitated interview/discussion with pre-provided questions for panel members. This event will also be webcast live at http://seniorsrightsservice.org.au/weaad/ for interested stakeholders not able to be physically present.