The next edition of Australian Ageing Agenda magazine is putting the spotlight on the latest in evidence-based, cost-efficient aged care design.
Work on creating a residential aged care accommodation framework including design standards continues ahead of a proposed July 2024 start date.
The focus is on a more accessible and dementia-friendly living environment, small-home models, suitability for diverse populations, safety features including infection control and encouraging innovation.
With this in mind, we'll speak to aged care and design experts such as architects, designers, landscapers, providers and researchers to find out future directions of residential aged care design – inside, outside and behind the scenes.
Key topics include:
built environment and layout
furnishings and interiors
access to the outdoors
operational efficiency
sustainability.
Clinical software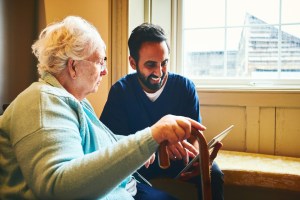 By now, all aged care homes should be using or making plans to implement clinical software to help manage the care of aged care residents. From managing medications to notifying families about a change, there is a range of applications that support aged care homes and staff to provide better care.
Next edition, we'll hear from experts and providers about clinical software that is helping frontline workers deliver, document and communicate safe, efficient and accurate clinical care.
Hygiene & cleaning
Aged care's cleaning crew are an integral part of aged care home operations and infection control and prevention. Like elsewhere in the sector, there are pressures for staff to do more at the same time as issues with staffing gaps.
Next issue, we'll highlight the latest devices, techniques or systems that are supporting aged care homes and cleaning teams to excel.
If you have a story to tell or expertise to share on these topics, please get in touch.
Email editorial submissions to editorial@australianageingagenda.com.au
Send advertising enquiries to advertise@australianageingagenda.com.au
Get the complete aged care picture and sign up for a print or digital subscription of AAA magazine here