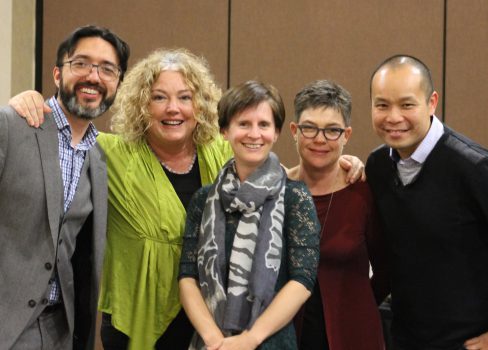 A joint research team from Calvary and Australian Catholic University has developed a simple checklist to routinely review the palliative needs of aged care residents.
The Palliative Care Needs Rounds Checklist is undergoing a second trial in 12 facilities after a pilot at four sites in 2014-15 showed the benefits of taking a proactive integrated approach to providing specialist palliative care within aged care facilities.
Benefits of the tool include improved skills and knowledge of the care team, cost-effectiveness for the acute sector and an increased possibility for residents to die in their preferred place with pain and suffering well managed, according to the study published in the British Medical Journal.
Study co-author and palliative care nurse practitioner Nikki Johnston said care managers, registered nurses and carers attend rounds after identifying and prioritising residents most at risk of unplanned dying with inadequately controlled symptoms.
"The checklist captures what occurs during these needs rounds [and] a specialist palliative care team member anywhere in Australia can pick it up and use it," Ms Johnston told Australian Ageing Agenda.
The evidence-based tool is built on data, descriptions and interviews that captured what occurred during monthly palliative care needs rounds of an hour's duration.
The information collected predicted residents' symptoms and prepared for them in advance, rather than reacting after something had occurred.
The checklist starts with a list of triggers to determine whether a resident should be discussed during rounds and then poses a series of questions dependent on whether the resident is a new referral or being reviewed before presenting various actions to consider.
Ms Johnston said the proactive approach had multiple benefits for residents and staff.
"Residents are identified when they're at risk of dying. They have plans put in place, families are informed and know what is happening so they feel valued, and there are fewer complaints," she said.
"People are dying where they want to die and they are dying with their symptoms managed more effectively.
"Staff feel better about their jobs because their capacity to do this work has increased and specialist palliative care is only getting referrals for people with specialist palliative care needs."
Two of the four pilot sites used a computer to check medication charts or other resident data to immediately record decisions taken on the needs round.
Ms Johnston said she hoped for a broader use of the tool including palliative care needs rounds facilitated in rural and remote Australia using telehealth.
"You could have one specialist palliative care clinician sitting in the city covering a big area using the checklist."
Access the checklist here.
Comment below to have your say on this story
Send us your news and tip-offs to editorial@australianageingagenda.com.au 
Subscribe to Australian Ageing Agenda magazine and sign up to the AAA newsletter