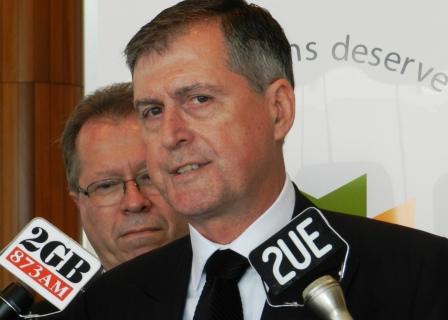 Above: Aged Care Association Australia CEO, Rod Young, yesterday at the launch of the National Aged Care Alliance Blueprint for Aged Care Reform.
By Keryn Curtis
Seven months after Aged and Community Services Australia (ACSA) announced it had resolved to pursue a merger with Aged Care Association Australia (ACAA), the ACSA board has overturned the decision, citing insufficient support among its state membership.
In a statement released late this morning, ACSA national president, Rob Hankins, said consultation with member States had indicated that there was insufficient support for the change to occur, 'which in itself would have been a complex process'.
According to the statement, the Board has reaffirmed its commitment that, "given the urgency to focus on a once in a lifetime aged care reform opportunity, as well as the need to actively influence the emerging NFP environment – which includes the nascent establishment of the Australian Charities and Not-for-profits Commission (ACNC) – it would be focusing its full attention on the importance of these priorities to the not-for-profit sector."
Mr Hankins said that despite yesterday's decision not to progress with the merger, widespread support across the sector for wholesale reforms remains essential during this critical period.
"ACSA will continue to cooperate closely with other relevant bodies such as NACA to seek unity on national reform issues and will seek to further its close working relationship with ACAA by strengthening the Aged Care Industry Council advocacy process."
Chief exective officer of ACAA, Rod Young, said he was obviously disappointed with the decision.
"We had held a position for five years that supported moving toward merger status with ACSA. So when ACSA started making the decision to have those discussions, in our mind, it was the correct course to take.
"Considerable effort has gone into this process. We have moved diligently to reach an agreement of minds about what the organisation would look like and were developing a draft constitution, so obviously we're disappointed."
Mr Young said he was reluctant to comment extensively prior to an ACAA board meeting next week where the matter would be discussed and a formal response issued. However, he said it seemed likely that the two organisations would continue to have different CEOs for at least the next three years.
AAA spoke with Mr Hankins briefly this afternoon but telecommunications problems prevented an interview. AAA also spoke with Aged Care Queensland chief executive, Nick Ryan, who said ACQ would be consulting with its members to understand their views and responses and would issue a response tomorrow.
Complex history
The issue of a merger between the two organisations has a long history, marked by strong views on both sides but the stakes in the debate were raised in October 2010 when a report by management consultants, The Nous Group, commissioned by ACSA (and leaked to AAA), recommended that ACSA investigate a merger with ACAA. The report found that, on balance, the positives of a merger outweighed the negatives.
A second report on the subject was released in early May 2011 by PricewaterhouseCoopers entitled, 'Is the sum greater than its parts? The value of a single industry aged care association'. PricewaterhouseCoopers had been independently commissioned by the two state-based peak bodies, Aged and Community Care Victoria (ACCV) and Aged Care Queensland (ACQ), both already 'merged' organisations.
The report's authors said its purpose was to kick-start the conversation by providing some operational models for consideration at a crucial juncture in time for the aged care sector in Australia.
When the ACSA national board announced in July that it had decided to proceed with pursuing a merger, ACSA's then president, Klaus Zimmermann, said the only thing that could possibly stand in the way of the formation of a single peak body for aged care was a 'no' vote from ACSA members when the question of the proposed merger was put to the organisation at the general meeting in November last year.
However, he said the organisation had spent the last 18 months collecting feedback and consulting members on the issue and he was extremely confident that the majority of voters would support the plans for a single peak national body.
The decision to take a vote at ACSA's November general board meeting was subsequently postponed.
The decision was made yesterday at an ACSA national board meeting held in Canberra and was announced this morning, shortly after the launch of the National Aged Care Alliance Blueprint for Aged Care Reform at Parliament House.
Merger milestones: