Regenerating boards in line with royal commission findings, keeping abreast of compliance requirements and workforce pressures top the challenges for aged care boards to overcome, an industry conference has heard.
The biggest challenges facing aged care boards in the coming months and years will be to reconfigure and regenerate its composition in line with what the royal commission is looking for, said George Andreola, general manager of corporate services at Leading Age Services Australia.
"It's the diversity of the skills requirements that will pose the biggest challenge," Mr Andreola told a panel discussion at the Govern with Care Virtual Forum on Wednesday.
"Certainly, the royal commission is looking for a range of diverse skills, but importantly skills in that clinical area. And they're not easy to come by when we look at especially community, regional and rural type providers, which don't have that cohort available in their community," said Mr Andreola, who joined other directors in a discussion of challenges and tips for aged care boards.
"Being able to know what's going on without getting sucked in is really important."
Fellow panellist Sandra Glaister, chief of quality and governance at Southern Cross Care Queensland, agreed with Mr Andreola about the need to boost skills and diversity. She said one of the three boards she sits on has just gone through a board rejuvenation process recognising the impacts of the royal commission and the future of the industry.
Another key governance challenge is keeping abreast of the compliance requirements without getting caught up in the operations of the business, Ms Glaister told the LASA and the Governance Institute of Australia forum.
"You need to be able to understand the business and you absolutely are accountable for what goes on in the business. And that's one of the things that maybe some board members, particularly for community-led member boards, may not necessarily be across. But being able to know what's going on without getting sucked in is really important," she said.
Standard eight places great emphasis on each board member around the organisational governance, and all board members need to be aware of this standard and its implications, Ms Glaister said.
"There is a feeling of being asked to do more, but maybe not with more resources."
They also need to be aware of all the other standards and balance that with the requirements of the Corporations Act, the Australian Charities and Not-for-Profits Commission and workplace health and safety legislation "because the board is ultimately responsible for the safety of the residents and those people that walk in through the front door; the staff," she added.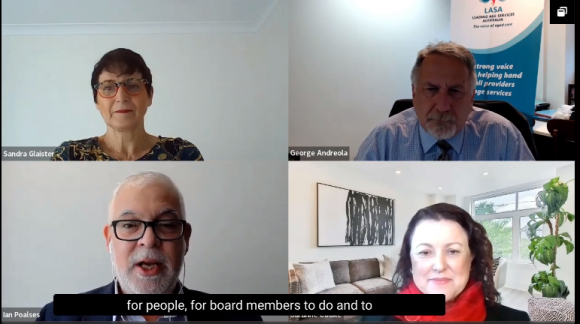 In addition to the increasing needs related to compliance and regulation, Dr Saranne Cooke, who sits on LASA's board, said key challenges for the aged care sector included workforce and cost pressures.
"To me, the sense is that there is a feeling of being asked to do more, but maybe not with more resources. And that's a difficult thing to do," Dr Cooke told the forum.
Ms Glaister added that boards – and CEOs – also needed to be able to look forward and plan because service recipients in the future will be looking for something different.
"As a board, we need to be keeping that strategic eye on the future and how we can offer the care and services in the environment where a person wants to live, whether that's community, retirement, residential, or something else [and] how we can become a provider of choice," she said.
Knowledge of standards improving
Elsewhere the panel members discussed how well-versed aged care boards were in all eight standards. The level of awareness has been increasing but it is not yet where it needs to be, Ms Glaister said.
"I get the sense talking with fellow board members and executives – not necessarily on the boards that I'm on – that there is still a feeling of, well the operations, standards like standard eight, are really the responsibility of the CEO, the executive team and those that serve within the organisation.
"There is still that feeling there, but it's changing. The people on boards are becoming more aware of their requirements and of the legislation that surrounds that; you can now be sued as a board member, not only the various board-type legislation like the Corporations Act and ACNC but now under the legislation that governs aged care."
Boards need to ask the right questions
Dr Cooke stressed it was important for boards to understand they can delegate responsibility to do something, but they can not delegate accountability. "You absolutely do delegate the management of the compliance with certain standards and regulations to the management team. But of course, boards are ultimately always responsible."
Getting it right is about understanding how much you need to know and what questions to ask, she said. "That's the beautiful, nuanced challenge of being a board director on any board is understanding that nuanced balance between when I step in and ask a little bit more versus when am I leaning back out a little bit because I'm satisfied with this particular item."
"The real challenge there is to uplift the engagement of board members to ask the appropriate question."
Mr Andreola said the level of board engagement needed – such as asking the right questions – was not always there in aged care boards; particularly with regional, rural and small community-based organisations.
"I see that is a particular problem for these smaller boards who, for want of a better word, are not as professional as some of the bigger providers out there in the aged care system. The real challenge there is to uplift, not necessarily the skills, but uplift the engagement of board members to ask the appropriate question," he said.
"And in a general sense, I'd probably advocate that a lot of people on smaller provider boards don't have a good understanding at all about the quality of care standards."
Comment on the story below. Follow Australian Ageing Agenda on Facebook, Twitter and LinkedIn, sign up to our twice-weekly newsletter and subscribe to AAA magazine for the complete aged care picture.