Aged care issues are receiving unprecedented federal election campaign coverage, Aged & Community Services Australia CEO Paul Sadler told delegates at the organisation's national summit in Canberra this week.
"We have achieved something we have never achieved before and that is for aged care to become one of the most significant issues in the campaign," said Mr Sadler. "Every single day there is new reporting and discussion on the campaign trail about aged care."
The reasons for the high-level of prominence given to aged care were twofold: the royal commission's report and the COVID pandemic. Both exposed a sector under strain, he said.
Mr Sadler told representatives at the National Convention Centre that they needed to give themselves credit for sending out a message that the industry was in crisis. "We have been strident in making that clear and that has fed into the political environment where this is now a primary election topic," he said.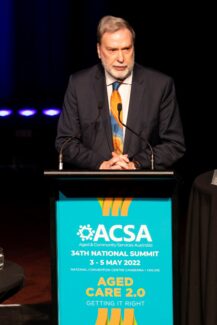 Despite aged care dominating the election campaign, delegates were told that political representatives from both major parties declined invitations to speak at the four-day conference, including Minister for Aged Care Services Richard Colbeck.
"None of us has seen Senator Colbeck speak at an event for quite a while," Mr Sadler said. "I think Liberal party headquarters are not wanting him to get in front of people."
Referencing the current workers' wages Fair Work Commission hearing, Mr Sadler told delegates the government has indicated it is not committing to fully funding the outcome. "Potentially, that means they expect residential and home care providers to tip in some of the money," he said.
With the majority of the country's residential aged care providers operating in deficit, Mr Sadler questioned how they would be able to pick up the slack. "It's really tough out there for residential aged care services," he said. "So for the government to think they don't need to fully fund the wage increase is a bit crazy – it's not real-world stuff."
Turning his attention to the Labor party, Mr Sadler noted it was standing up with the unions to address workforce issues. "Have you got the guts to stand up in front of providers too?" he asked.
Citing Opposition support for introducing criminal penalties for providers who fail to report neglect and abuse of residents, Mr Sadler said that new sector peak ACCAP "will need to be very measured" in its response.
Providers don't want to be put in a position where people are wary of joining boards or senior executive teams, Mr Sadler told delegates. "Equally, if people do something really badly, morally, ethically wrong, maybe criminal penalties are reasonable – we need to get the balance right."
Addressing both major political parties, Mr Sadler said they had failed to deal with one of the royal commission's top concerns: how you finance the sector in the long term.
One idea put forward by the royal commission to fund the rising cost of aged care is to introduce an aged care levy similar to the Medicare levy, Mr Sadler told delegates. "The government rejected that straight away, and the Opposition has also said that it would not introduce an aged care levy," he said.
This leaves providers asking the parties a key question, said Mr Sadler: "If you're not going to do that, what are both of you going to do about how you fund and finance the sector properly into the future?"
Comment on the story below. Follow Australian Ageing Agenda on Facebook, Twitter and LinkedIn, sign up to our twice-weekly newsletter and subscribe to AAA magazine for the complete aged care picture.