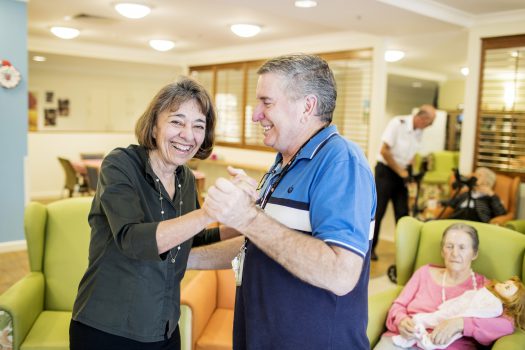 One of the early adopters of a British approach to dementia care is reporting positive outcomes at its aged care facilities in Brisbane and Canberra, while the model's founder seeks more Australian facilities to get on board.
The Salvation Army Aged Care Plus says it is seeing significant reduction in falls and the use of psychotropic medications as a result of its implementation of a British dementia care model.
Since July last year the organisation has been rolling out the model at its Cairns Aged Care Plus Centre at Chapel Hill in Queensland and the Mountain View Aged Care Plus Centre at Narrabundah in the ACT.
As Australian Ageing Agenda has previously reported, the model was pioneered in the UK by Dementia Care Matters and moves from a task-focused institutional approach to one guided by each resident's interests, feelings and emotions (read that story here).
Interim results from The Salvation Army Aged Care Plus' adoption of the model, which it has called Making Moments Matter, show significant improvements in the quality of life for residents living with dementia.
The Salvation Army Aged Care Plus this week reported that falls have been reduced by 85 per cent at the ACT facility and 67 per cent at its Queensland centre, while the number of residents requiring psychotropic medication has fallen by 33 per cent and 10 per cent respectively.
The model has also positively impacted residents' pain levels, with 60 per cent of those at both centres experiencing a stabilisation in their pain under the model.
The Salvation Army Aged Care Plus said the results can be attributed to the physical, cultural and environmental changes that have been implemented under the model.
Social areas have become more intimate to enhance social engagement, while household items have been introduced to replicate a sense of familiarity.
Residents can get involved in domestic duties to help give them a sense of purpose, and meals are now shared with staff, who have also undertaken emotional intelligence training so as to better connect with residents.
Benefit of emotional connections
Aged Care Plus executive manager – care services Peter Bewert said the interim results demonstrated that caring for people living with dementia requires more than a consideration of physical needs.
"The value of replacing task orientated care routines with relaxed homelike experiences, where staff are considered to be an extension of family, cannot be underestimated," Bewert said.
"The benefits of emotional connectivity have had a significant impact on physical, psychological and social wellness."
Families of residents are also reporting positive results.
Amanda Jackson, who is daughter of Sue Jackson, a resident of Mountain View Aged Care Plus Centre, said the program was providing greater quality of life for the residents.
"They are engaged and welcomed into a new home and I can see they are no longer bored or reserved," she said.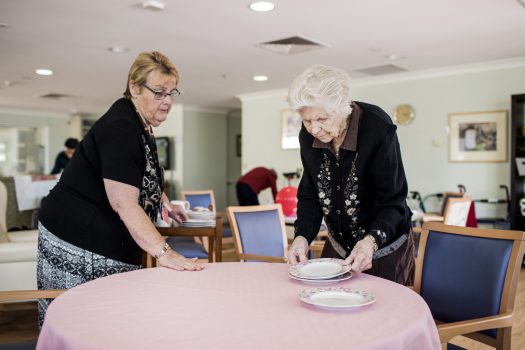 The Salvation Army Aged Care Plus said that further changes to the environment would complement the culture change underway.
Construction will commence in the next six months to create fully-functioning small households featuring domestic kitchens and laundries in which the residents can carry out daily routine tasks.
Additional staff training will also be carried out to complete the emotional intelligence and person-centred care delivery element of the model, the organisation said.
Other Australian facilities sought: founder
Meanwhile, Dr David Sheard, CEO of Dementia Care Matters, which pioneered the Butterfly Care Home model, said he was now looking for other facilities in Australia to adopt the approach.
"We are now seeking three further Butterfly Care Homes in Australia for phase two of our work and would really welcome contact from homes who wish to formally provide an expression of interest," he said.
Interested providers can contact Dementia Care Matters by email admin@dementiacarematters.com
Want to have your say on this story? Comment below. Send us your news and tip-offs to editorial@australianageingagenda.com.au 
Subscribe to Australian Ageing Agenda magazine