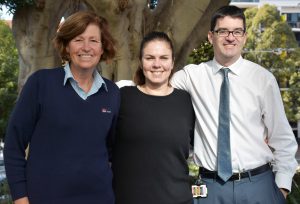 A hospital-based outreach service for aged care has avoided more than half of the physical visits it would usually make and increased its reach by assessing residents by video, the early results of a study find.
The study underway aims to improve the Northern Sydney Local Health District's Aged Care Rapid Response Team's (ARRT) efficiency and judgment about a resident's need to be seen in person and the urgency of the situation.
The ARRT, which includes a geriatrician, clinical nurse consultants, registrars and advanced trainees in geriatrics, provides a rapid assessment service for older people in residential aged care and the community who is experiencing a new medical, functional or cognitive decline and at risk of hospitalisation.
The pilot, which involves staff at four residential aged care facilities using iPads to make video calls instead of referrals over the phone, has conducted about 60 video conferences in July and August.
The approach is allowing the geriatric assessment team to see more residents overall, said Dr James Hardy, a specialist geriatrician with Royal North Shore Hospital and ARRT.
"If we can see someone and can come up with a plan immediately, or we can triage to see them a little bit later and not rush out and find out they're not that sick, then it means it frees us up to be able to see other people who are really sick," Dr Hardy told Australian Ageing Agenda.
An evaluation from the first two months found 58 per cent of physical visits were avoided by seeing the resident on video, Dr Hardy said.
"It prevented having to do a physical home visit, so it was good enough to see them on the video and see whether they were sick or not and come up with a plan."
The video conferences also improved clinicians' triaging judgements and decisions including on who to see first, Dr Hardy said.
"Around half the time, it improved our ability to say 'ok this person is definitely sick we need to rush and see them' or 'this person is not that sick, it can wait a few hours before we see them'," Dr Hardy said.
"It makes a huge difference to be able to physically see what the patient is doing, rather than just relying on a report from someone over the phone."
Residents assessed by video conferencing avoided going to hospital 83 per cent of the time, he said.
Common reasons for referral to the service during the pilot included falls, musculoskeletal problems, delirium and pneumonia.
Telehealth improves efficiency
Aged Care Rapid Response Team clinical nurse consultant Therese Jepson said the new service improved efficiency for clinicians because of its mobility.
"We've used our mobile phones and our laptops, so we don't necessarily need to be in an office with a big piece of telehealth machinery. We can be in another facility, in the car or in another office somewhere else and we can take that call if it's appropriate and if there is privacy," Ms Jepson told AAA.
Ms Jepson said the pilot was initially a three-month study but has been extended until December this year.
"Based on those figures… we were quite pleased with how things are going, we're getting quite good feedback from the users, the facilities and the patients and we've decided to expand it," Ms Jepson said.
Ms Jepson said 11 additional residential aged care facilities are joining the study.
"We're also hoping to have NSW ambulance on board as well in the next week or two. They're very keen to be involved in the project. They'll be able to make referrals to us and teleconference us directly," she said.
Comment below to have your say on this story
Subscribe to Australian Ageing Agenda magazine and sign up to the AAA newsletter