The number of loss-making aged care facilities continues to rise and is expected to worsen due to the coronavirus pandemic, an industry expert tells Australian Ageing Agenda.
Accounting and benchmarking firm StewartBrown report released this week shows that 56 per cent of aged care homes recorded an operating loss (negative earnings before tax) and 29 per cent reported a cash loss (negative earnings before interest, taxation, depreciation, amortisation and rent) for the six months ending December 2019.
This is up from 51 per cent and 27 per cent respectively for the quarter ending September 2019 and 42 per cent and 21 per cent respectively for the six months ending December 2018.
The StewartBrown Aged Care Financial Performance Survey ­– 6 Months ending December 2019 includes data from 1,125 aged care homes and 36,529 home care packages across Australia.
StewartBrown senior partner Grant Corderoy said he expected the results and continued deterioration due to COVID-19.
"We expect most of those percentages to continue to deteriorate over the next six months, it would have anyway, but obviously with COVID, it's going to cause a greater deterioration of the results," Mr Corderoy told AAA.
Facilities operating a loss are increasing in all areas and are the worst in outer regional, rural and remote locations (71 per cent), followed by inner regional (61 per cent) and major cities (52 per cent), the survey shows.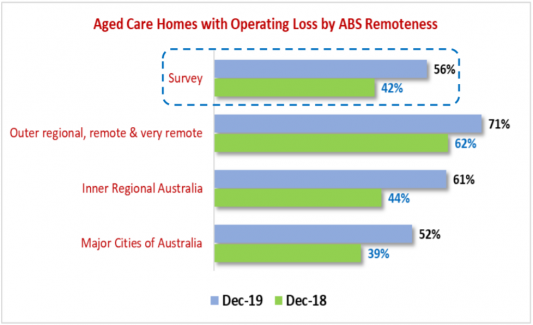 Mr Corderoy said there has been no improvement to any of these figures because of the small increase in the Aged Care Funding Instrument subsidy and the larger increase in direct care expenses.
"The increase in ACFI, which is the subsidy revenue has only gone up by 1.4 per cent, which is the COPE indexation increase. In other words, there has been no overall movement in ACFI," Mr Corderoy said.
"The overall expenses have gone up by 6.8 per cent, so we're seeing a 1.4 to 1.5 per cent increase in revenue, and you got a 6.8 per cent increase in costs… that very much shows that the cost rising growth, the revenue is going to be increased losses and certainly increase financial pressure on all aged care homes," he said.
Mr Corderoy said immediate action can be taken to help improve the financial situation aged care homes, including deregulating the basic daily fee.
Indirect care costs exceed the basic daily fee and initial services by over $8 per bed per day, excluding any administration costs, Mr Corderoy said.
"We're saying as a reform we'd like to see everyday living, so the basic daily fee, deregulated, which is what David Tune and the Tune review recommended; and also the Government to subsidise the additional $10 per bed per day for everyday living," he said.
"That will change the dynamics as far as aged care homes and their financial sustainability," he said.
Predictions for the year ahead
Mr Corderoy said the aged care sector's financial performance will be further negatively impacted because of coronavirus including increased regulatory and workforce costs.
Some of that has already occurred with new requirements around increased screening and monitoring of visitors to aged care homes, he said.
There will also be workforce issues due to individual's personal circumstances, such as child-minding and other family situations, Mr Corderoy said.
"It would well have an impact on occupancy and as soon as there is a drop in occupancy, again, it could be more of a financial strain because aged care homes and most businesses need to have good occupancy and good turnover.
"We don't know what the full implications will be, but certainly it will have an implication in residential aged care and home care," Mr Corderoy said.
Other residential aged care results
average ACFI of $180.30 per bed per day, up $2.63 the previous year
average occupancy of 93.9 per cent, up from 94.9 per cent the previous year
average of 3.25 total care hours per resident per day, up from 3.16 the previous year
everyday living costs exceeded revenue by an average of $8.13 per bed per day.
Access the report here.
Comment on the story below. Follow Australian Ageing Agenda on Facebook, Twitter and LinkedIn, sign up to our twice-weekly newsletter and subscribe to AAA magazine for the complete aged care picture.