The Aged & Community Care Providers Association was among the peak bodies to react to the appointment earlier this week of a number of new aged care ministers.
Heading the portfolio, is Minister for Health and Aged Care Mark Butler. No newbie when it comes to aged care affairs, Mr Butler held the post of Minister for Mental Health and Ageing for three years between 2010 and 2013 under prime ministers Julia Gillard and Kevin Rudd.
While serving under the Gillard administration Mr Butler ushered in a welcomed raft of aged care reform measures.
"Mark Butler is well known to the aged care sector from his previous role leading the Living Longer Living Better reforms in the Gillard Government," said ACCPA interim CEO Paul Sadler. "We will be looking to Mark to drive positive reforms across health and aged care."
Other appointees to the aged care portfolio include Anika Wells as Minister for Aged Care and Sport and Ged Kearney as Assistant Minister for Health and Ageing.
The three ministers were sworn in at Government House, Canberra, on Wednesday morning.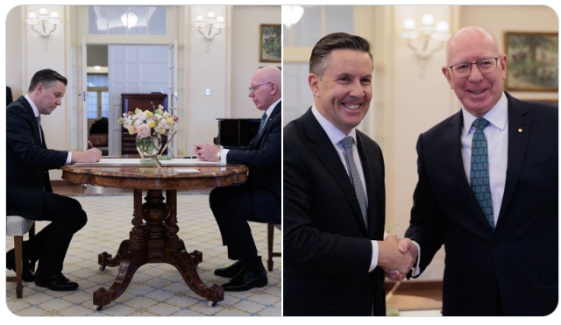 Mr Sadler praised Ms Wells for her aged care advocacy, especially during the pandemic, "highlighting issues around access to PPE, and the safety and wellbeing of aged care residents."
Following the announcement of her ministry position, Ms Wells told the ABC that both she and her mother had previously worked in the aged care sector. "So there is a bit of family history in the area," she said.
"We look forward to seeing how Anika uses her knowledge and connection to the centre of her role," said Mr Sadler.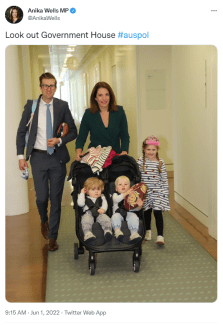 Mr Sadler added that ACCPA looked forward to working with all the new ministers "to ensure older Australians get the care they deserve, workers are better paid and respected, and there is immediate action on much-needed sector reforms as outlined by the royal commission."
Still much to be done
Dementia Australia also welcomed the announcement of the new federal ministry. CEO Maree McCabe said she too was looking forward to working with Mr Butler and the other aged care ministers.
"We have worked closely with Mr Butler for many years, and he has met with dementia advocates who have shared their stories and discussed why quality dementia care is needed for people of all ages, living with all forms of dementia, their families and carers."
However, Ms McCabe added there was still much to be done "to fulfil the recommendations of the royal commission and we look forward to continuing our discussions with Minister Butler and his team."

The Australian Nursing and Midwifery Federation added its congratulations, particularly to Ms Kearney – a former nurse and ANMF federal secretary "who clearly understands the challenges we're facing and has supported the ANMF over the past decade as we've campaigned tirelessly to ensure fair and equitable health outcomes for all Australians."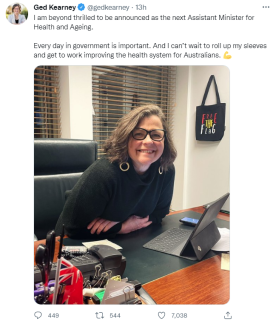 Heartened by the Labor party's pre-election promises to address the aged care crisis, ANMF acting federal secretary Lori-Anne Sharp said the union was ready to work with the new government to develop and implement a wide range of reforms.
"Including registered nurses 24/7; mandating staffing ratios in private aged care facilities; recognising the value of the aged care workforce through improved pay and conditions; and ensuring that taxpayer-funds for aged care providers are tied to direct care for residents," she said.
The Pharmaceutical Society of Australia was also quick to welcome Mr Butler's appointment. "We look forward to continuing our productive relationship with the Australian Labor Party, in particular with incoming Minister for Health and Aged Care, Mark Butler," said PSA national president Associate Professor Chris Freeman.
"PSA is ready to work with the minister to progress the funding of onsite aged care pharmacists," he added.
The Pharmacy Guild joined the PSA in tweeting its support for Mr Butler and his colleagues.

Meanwhile, National Seniors chief advocate Ian Henschke said the organisation looked forward to continuing its relationships with Mr Butler and Ms Kearney – "which are well established".
National Seniors is also keen to seek a meeting with Ms Wells, said Mr Henschke, "to welcome her to her new ministry and provide her with the detailed National Seniors' research into the priorities in aged care."
Comment on the story below. Follow Australian Ageing Agenda on Facebook, Twitter and LinkedIn, sign up to our twice-weekly newsletter and subscribe to AAA magazine for the complete aged care picture.