Aged care leaders should start measuring and benchmarking the quality of life for the residents in their facilities as a way of fostering industry-wide collaboration to ensure older people live better lives.
In an impassioned address at the Aged & Community Services Australia summit on Wednesday, long-serving aged care executive and industry leader Mike Rungie encouraged providers to think beyond compliance with clinical standards and even current challenges such as the Aged Care Funding Instrument cuts.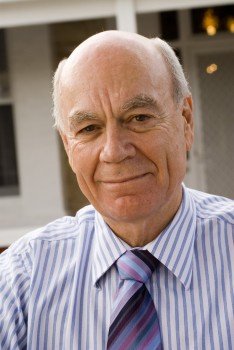 "As leaders we've got to ask if we care about quality of life, and if we do, what we can do about it," he told the Hobart audience.
Dr Rungie's organisation, ACH Group, is part of a group of South Australian providers involved in the SA Innovation Hub which has been exploring the use of various tools to measure quality of life.
Under his tenure, ACH Group has trialled different service models that enable older people to not just receive high quality care, but to also live quality lives.
Dr Rungie said it was clear that roles were crucial in assisting residents to have independence and purpose, and to maintain life skills after moving into an aged care facility.
"Roles are at the centre of how we view our quality of life; they create satisfaction, anticipation – they're how you fill your day," he said.
"Even for frail older people you can think about how to create roles that make sense for them."
Older people needed skills and reputation to enhance roles, Dr Rungie said, but residents often reported that aged care did not build skills and it destroyed reputations. He said:
"When the person enters aged care, reputation is the one thing they hold onto. The person is suffering a lot of losses, and a lot of ageism. Our job as providers is to understand that building skills and not destroying reputation is very important."
Dr Rungie encouraged providers to start measuring and benchmarking quality of life inside their facilities, across their organisation, and externally.
This would enable providers to identify what was working to improve quality of life, and to share those innovations with the broader sector, he said. "The really interesting stuff often comes from looking at where you're doing well and what's contributing to that."
A major learning opportunity was to find and learn from home care providers that were using CDC to drive choice and quality of life for clients, as it was possible to redesign residential aged care so it contained more of those elements, he said.
"Leaders also need to get on top of why roles matter. You need to find people in your organisation who have roles and whose quality of life is going up; meet them, learn from those stories. Start to ask questions as a leader about what you could do to increase the potential for roles in your facilities, even for frail older residents."
Want to have your say on this story? Comment below. Send us your news and tip-offs to editorial@australianageingagenda.com.au 
Subscribe to Australian Ageing Agenda magazine