Despite the sector's many recent advances, the clinical governance systems in residential aged care "are lacking", an Australian aged care CEO will tell an international conference.
The funding of clinical expertise in residential aged care needs to be urgently addressed, according to Wayne Belcher, chief executive of Western Australian provider Braemar Presbyterian Care.
Mr Belcher will deliver an analysis of Australia's aged care sector at the Global Conference on Integrated Care in Singapore on Friday.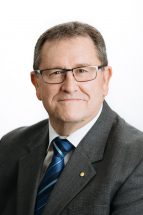 He will tell the international audience that "relentless fiscal pressure is squeezing the ability of providers to continue to make surpluses and contemporaneously maintain a reasonable level of clinical governance oversight in their staff mix."
There is both a credibility gap in terms of financing in the aged care system and a lack of appropriate clinical skills on duty in facilities 24 hours a day to ensure minimum clinical governance requirements, Mr Belcher will argue.
Referencing 2017 StewartBrown benchmarking data, Mr Belcher says around 50 per cent of facilities are struggling to meet the financial stability required to ensure long-term viability.
A troubling factor is that not every facility in the top quartile of providers had a registered nurse on duty 24 hours a day, seven days a week, he says.
"To avoid having professionally trained registered nurses on site all together is, I believe, one of the overall program's greatest failings," Mr Belcher says.
Whilst there are providers who feel it necessary and appropriate to maintain registered nurse coverage, diminishing financial resources and the associated costs of that coverage are affecting the continuation of this practice, he says.
"It is almost as if residential aged care providers are being steered down a path away from best clinical governance practice and riskily towards a place where providers take the brunt of error from government, families, the community, and certainly the media, when something inevitably goes wrong.
"The ability to provide a seamless nature to integrated care services is limited when one or more parts to a working system cannot fulfil fundamental clinical governance practices."
He says Australia has developed aged care services that are amongst the best in the world, but cruel examples of abuse and neglect along with instances of poor diagnosis and treatment in care continue to come to light.
In regards to the recent failures identified at Oakden, which triggered last year's review of aged care quality regulatory processes, Mr Belcher questions whether there was also a failure of the quality framework and/or assessment services provided by the Australian Aged Care Quality Agency.
"The aged care quality and accreditation system fulfils the definitions of a clinical governance system. Is the system itself at fault?"
Mr Belcher argues that if Australia is to arrive at a place where it can integrate its healthcare response to a myriad of service types and providers, it is necessary to recognise the importance of excellent clinical governance.
"Such clinical governance systems need to be understood by, and easily translated across the range of providers so that all stakeholders can be clear about the scope of practice able to be provided in each service program.
"With respect to residential aged care in Australia, the aged care quality and accreditation that underpins the service regime is lacking that transferability and clarity."
Lack of clarity around quality
Elsewhere, a former senior bureaucrat with a long career in aged care standards and governance has said that a key issue is the lack of an agreed definition of quality in aged care.
Maree Cameron, former manager of quality improvement with the Victorian Department of Health and Human Services, said that while aged care legislation is clear on provider responsibility to protect residents from serious risk and ensure their health and wellbeing, "we've never defined what we mean by that."
"When we talk quality and safety it's very hard to latch on to something," she recently told the Quality Talks podcast with healthcare safety specialist Cathy Balding.
"My experience with homes that had a number of failures over the years… was that they never saw it coming, particularly around the standards. It's always a surprise seemingly when someone doesn't meet standards. By not having a threshold by which to measure ourselves objectively on a day-to-day basis in a more sophisticated way we're going to keep getting surprised," she said.
Comment below to have your say on this story
Send us your news and tip-offs to editorial@australianageingagenda.com.au 
Subscribe to Australian Ageing Agenda magazine and sign up to the AAA newsletter