As animal welfare advocates call on aged care providers to allow more residents to live with pets, one facility shares its experience of becoming pet friendly. 
"It must be awful for people who have to separate from their pets," says Shirley, a resident at the Regency Green Multicultural Aged Care facility in South Australia.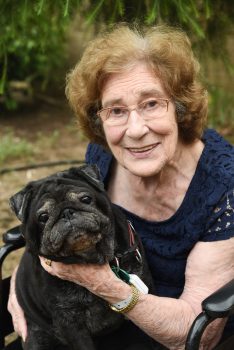 Since December 2016 Shirley has been living with her pug Bruce at the Uniting SA facility after it created its first "pet companion room" to enable residents to keep living with their dogs or cats.
A dog door in Shirley's room leads to a fenced yard, allowing Bruce to come and go as he pleases.
At night he sleeps in his bed on the floor, alongside Shirley's own.
"The company is wonderful, especially at night. I'm very grateful to have this room," she says.
Recently the Animal Welfare League of Australia called on aged care providers to become pet-friendly, saying just one in five facilities currently allow residents to live with their animals.
At Regency Green, staff report that enabling residents to keep living with their pets has led to improvements in wellbeing and quality of life.
The site's pet friendly focus started a couple of years ago when staff saw a need for an area for family members to bring pets in to visit residents.
An off-leash dog exercise yard was developed, allowing residents to easily maintain contact with family pets.
After the success of Shirley's room, another pet companion room was created shortly before Christmas – this time to cater for a resident with two cats.
Irene, another resident at the facility, had lived with cats all her life and was devastated to leave them behind when health issues meant she needed residential care.
Staff report that she quickly became depressed and didn't want to eat or drink, and was reluctant to engage in conversation. Noticing her distress, they started investigating options to reunite Irene with her cats.
Efforts to keep resident with pets
The first step involved moving Irene's cats to the Animal Welfare League, from where they could participate in the AWL's Cats Fly in Fly Out program.
The program – developed between UnitingSA and the AWL last year – involves a selection of cats and kittens visiting Regency Green a couple of times each week to play in a mobile enclosure and socialise with residents.
Staff said the program has had multiple benefits for residents as well as the shelter's animals – several of which have been adopted by visitors to Regency Green.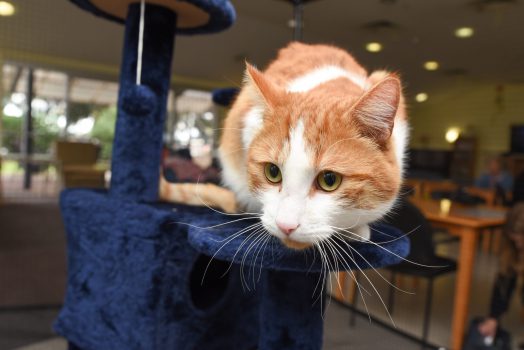 Irene says "it was a great relief" when she saw her cats on those visits, but she still longed to have them permanently by her side.
The staff set about helping to make this a reality. Funds were raised to convert the courtyard near Irene's room to a cat enclosure with a platform linking it to the inside.
UnitingSA's executive manager aged care Deborah Burton said Irene started smiling, eating and talking – a powerful demonstration of the importance of the bond between people and their pets.
"We want to make sure that bond is nurtured," Ms Burton said.
"Just because somebody is at the stage they need to move into aged care, it doesn't mean they should lose their companion. I have always had cats myself and I would like to think when I am older I will also be able to bring them with me wherever I move."
Ms Burton said residents who want their pet to live with them are required to have a period of respite before being accepted as permanent.
This allows each pet being considered for residency to be assessed by the AWL to ensure it is a suitable placement for the pet as well as the owner and home.
Training and guidelines
The AWL has also trained UnitingSA staff in pet care while new guidelines have been developed to ensure residents, families and staff understand their responsibilities.
Pet care plans have also been devised, as well as formally-agreed processes for ongoing pet care if a resident is admitted into hospital, can no longer care for their pet or passes away.
"We are committed to providing a safe environment for our residents where they are able to continue to spend time with their pets," Ms Burton said.
"We know how important pets are in people's lives – they really are part of the family."
Related coverage: Allow aged care residents to keep pets, say welfare groups
Comment below to have your say on this story
Send us your news and tip-offs to editorial@australianageingagenda.com.au
Subscribe to Australian Ageing Agenda magazine and sign up to the AAA newsletter