The interaction between staff and residents is the best predictor of success in aged services, and providers must make this their focus in order to succeed in the consumer-directed market, an international business expert has said.
John Fleming, the author of the best-selling business guide Human Sigma: Managing the Employee-Customer Encounter, said that recent Gallup-led research into customer satisfaction in retirement villages showed residents wanted to feel respected, valued and thought of as individuals – all aspects that were driven by staff interaction.
Dr Fleming, who is a chief scientist with Gallup, spoke this week in Sydney on customer and staff engagement in aged services and its impact on organisational performance, at an event hosted by Gallup, National Roads Motor Association (NRMA) and Council of the Ageing (COTA).
Speaking to Australian Ageing Agenda after the event, Dr Fleming explained that within the aged care environment, a client's satisfaction or engagement with the organisation was largely dependent on their relationships with staff.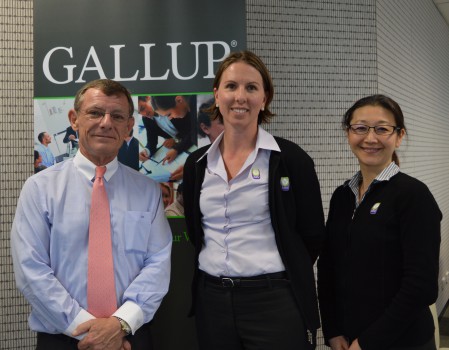 Gallup's research showed that when clients felt valued and respected they were more likely to feel emotionally connected to the organisation, and this delivered measurable financial, compliance and health benefits.
However, these effects were magnified when staff also felt engaged with the organisation, and the two must be managed together to drive performance improvement, Dr Fleming said.
"It's very difficult to get high levels of customer engagement without also having commensurately high levels of employee engagement… Only when you can see how both interact that you really get a sense of the health of your organisation."
It was incumbent on managers to help staff feel as though they were individually recognised, an important member of the team and had room for growth, as this made staff more productive and reduced client safety incidents, staff absenteeism and turnover, he said.
"When you do those things, other things become less important, like the total salary package or the benefits scheme… People will stay in work environments that are engaging, even at lower pay," said Dr Fleming. "What you're doing is creating an environment where people are connected to one another; whether its employees to fellow employees, whether it's employees to customers."
It was critical that organisations begin to think about and measure staff and client satisfaction and its impact on outcomes as aged care moves into a more competitive, consumer-directed environment, he said.
"If you don't take it seriously now, you lose that lead time you had. [Providers] should be going crazy getting ready for this change. There are competitors who are just salivating waiting for those changes to take place."
Dr Fleming said he believed the most at-risk were not-for-profit providers, which had never had to manage to a profit motive, and they needed to work hard to differentiate themselves in the market.
Gallup helped to develop the Owl Rating Guide for the NRMA in partnership with COTA, which served as a customer satisfaction guide for retirement living and would be expanded to in-home care in the future.
Discussing the data from the first wave of Owl Ratings, Dr Fleming said most residents felt they were treated with respect in their villages, but they also felt as though villages were struggling to deliver on promises and fairly resolve their problems. He said processes were needed to improve customer engagement in the sector.
"If they always said there would be canasta on Tuesdays and there's never a canasta game on, for someone that might be a real thing that bugs them – or a hairdresser who doesn't show up at the facility when they're supposed to," he said.
"Never give false hopes and when you do have a bump in the road, make sure that you communicate with them so they know that you're not ignoring the problem."
Want to have your say on this story? Comment below. Send us your news and tip-offs to editorial@australianageingagenda.com.au 
Subscribe to Australian Ageing Agenda magazine (includes Technology Review)