The number of complaints about residential aged care services has fallen slightly – as has the number of providers failing to comply with standards – according to the latest sector performance report.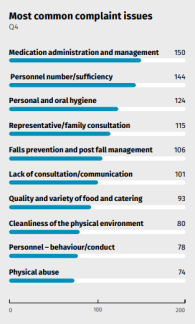 In all, there were 2,383 complaints directed against aged care services during the April-June 2023 quarter – down from 2,446 complaints in the previous quarter. It includes 1,255 for residential aged care, 1,108 related to home care and 20 about flexible care – the Aged Care Quality and Safety Commission's latest sector performance report shows.
Complaints were made against 567 residential aged care services covering 2,751 issues – with medication administration and management continuing to top the complaints list (150).
The majority of the 1,255 complainants received by the commission were lodged by family members or representatives of residents (685); anonymous (312); others (173); care recipients (85).
In total, the commission finalised 1,319 residential aged care complaints during the reporting quarter.
Reportable incidents
The upward trend of reportable incidents continues in residential aged care, the latest figures show: 12,885 compared to 12,778 the previous quarter – 4,319 priority 1 and 8,566 priority 2.
Unreasonable force continues to be the most reported incident with 7,368 cases lodged.

Quality standards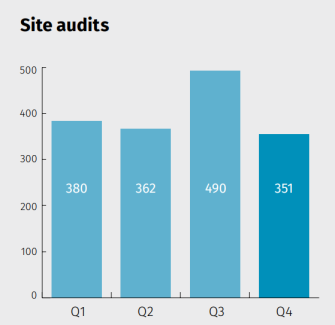 During the period, the commission conducted 351 residential aged care site audits – down 139 from the previous quarter. This was due to a backlog of audits caused by Covid, which limited site visits.
New South Wales received the most site visits (138) followed by Victoria (102), Western Australia (42), Queensland (32), South Australia (24), Tasmania (9), Northern Territory (2), and Australian Capital Territory (2).
Residential aged care services found to be non-compliant with one or more quality standard dropped during quarter four – 83 compared to 88.
As seen in the graph below – which breaks down the degree and frequency of non-compliance across each of the eight quality standards – personal care and clinical care remains the top one homes are failing to meet.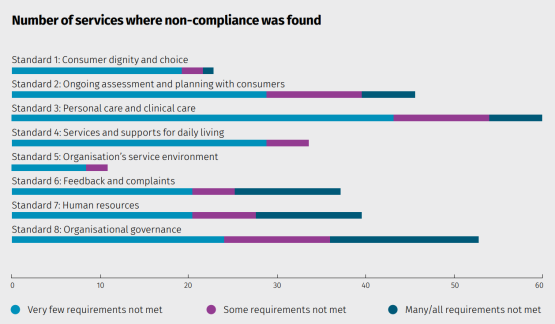 Regulatory actions taken by the commission during the period in every state and territory were as follows:

Home care
Complaints against home care providers also fell during Q4 with 1,108 received covering 1,881 issues. Most, by far, regarded home care packages – 1,015.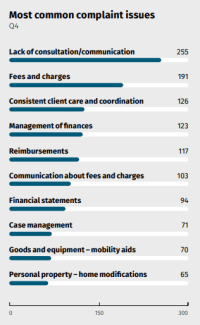 Once again, lack of consultation or communication drew the most complaints (255), then fees and charges (191), and consistent client care and coordination (126).
Care recipients made up the largest complaints contingent (555), followed by representative or family member (469), others (58), and anonymous (26).
There were 1,027 reportable incident notifications between April-June 2023, with the most concerning neglect of clients (560). Stealing or financial coercion by a staff member ranked second (253).

The commission conducted 115 quality audits during the period with 37 home care services found to be non-compliant, similar to the previous quarter (36).
Number of services where non-compliance was found with each quality standard: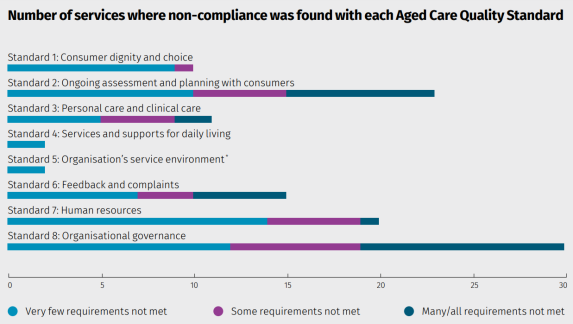 The actions taken by the quality commission during quarter four by state and territory were as follows:

Comment on the story below. Follow Australian Ageing Agenda on Facebook, Twitter and LinkedIn, sign up to our twice-weekly newsletter and subscribe to AAA magazine for the complete aged care picture.