A new report has urged government to develop national action plans to tackle employment discrimination faced by older Australians, and establish a Minster for Longevity to address the economic implications of an ageing population.
On Monday, the Australian Human Rights Commission released its inquiry report into workforce discrimination against by older people and those with a disability, commissioned by Attorney-General George Brandis.
Willing to Work, based on research and consultation with over 1,100 people, found stereotypes and assumptions about older people's capabilities were often impacting on access to career and job opportunities, leading to situations such as individual distress, poor health and poverty.
The report builds on the commission's 2015 survey that found over a quarter of people over 50 experienced age discrimination at work, and a third of who experienced discrimination while looking for a job gave up searching.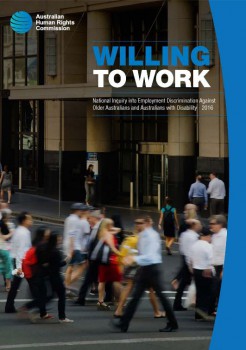 While over 55s made up around a quarter of the population, the report found they were only 16 per cent of the workforce, and workforce participation steeply declined as people entered their 60s.
Age Discrimination Commissioner Susan Ryan said a person who lost their job in mid to later life may often not work again.
"Without the changes we recommend, people who lose their jobs in their 50s may live up to another forty years without paid employment," said Ms Ryan at the report's launch.
Beyond individual impacts, the report found discrimination had significant impact on national productivity, noting economic modelling had shown a 7 per cent increase in mature-age workforce participation would raise GDP by approximately $25 billion in 2022.
Key recommendations for government included:
Establish a Minister for Longevity to address employment discrimination for older people, and the economic dimensions of an ageing population.
Develop national action plans to address employment discrimination and lift labour force participation
Introduce national education campaigns to dispel myths and stereotypes
Expand the role of the Workplace Gender Equality Agency to become the Workplace Gender Equality and Diversity Agency
The business case
Age discrimination meant businesses were missing out on the range of skills and abilities older people had to offer, said Ms Ryan.
"In an economy with serious skills shortages, this does not make sense," she said. "Organisations that are inclusive and diverse report tangible benefits in terms of productivity, performance and innovation."
The report said there was a "damaging gap" in access to skills training for workers approaching mid-life. It particularly urged government to help support older workers from declining sectors, like manufacturing, to retrain to work in growth sectors.
The report also highlighted strategies for businesses to address discrimination and support the workplace needs of older people, and showcased many businesses, such as the Accor Group and aged care provider Catholic Homes, who were successfully engaging older workers.
COTA 'strongly supports' report
Council of the Ageing welcomed the report, with chief executive Ian Yates calling on all political parties to include its recommendations within their election campaigns.
"With the population ageing it's imperative for the economic prosperity of the nation that we remove all the barriers to mature age workforce participation," said Mr Yates.
"COTA strongly supports the recommendations in the report which call for the government to lead the way in creating national workforce strategies, providing mature age retraining initiatives and addressing workplace discrimination."
The peak body also welcomed the recommendation for a Minister for Longevity, as it said the implications of an ageing society were critical for the economy as a whole.
New commissioner announced
Susan Ryan will step down as the Age Discrimination Commissioner in August. It was announced yesterday that she will be succeeded by Dr Kay Patterson, current Commissioner of the National Mental Health Commission and former cabinet minister, senator and academic.
You can read the full report here.
Want to have your say on this story? Comment below. Send us your news and tip-offs to editorial@australianageingagenda.com.au 
Subscribe to Australian Ageing Agenda magazine (includes Technology Review)