While life has returned to a semblance of normality in the community as Australia moves on from COVID, that's not reflected in aged care settings where strict protocols and workforce pressures remain.
Speaking to Australian Ageing Agenda, Whiddon CEO Chris Mamarelis said: "We're still seeing a lot of challenges – in the context of the workforce in particular … both in terms of shortages and the wellbeing of the workforce."
A lot of the chaos has gone in terms of responding to outbreaks and understanding COVID-safe practice, he said, but when it come to the workforce, "it's the same, if not worse than it's been over the past couple of years."
If anyone doubts that COVID is still a thing, they only need to look at the numbers.
As of 3 June 2022, there were 5,516 active COVID cases in 694 residential aged care facilities across Australia – 3,603 cases among residents and 1,913 cases in staff.
Department of Health statistics show there have been 48,674 cases among residents and 40,004 among staff since the beginning of the pandemic in March 2020. Of those, there have been 2,560 COVID-associated deaths within aged care facilities.
Whiddon is among the hundreds of providers still very much impacted by the pandemic. Whiddon has active outbreaks at eight sites with a total of 189 COVID cases in residents (71) and staff (118) and four of those residents have died, according to the latest report.
Those cases include two residents and 80 staff at Whiddon's Glenfield facility, which is home to 500 residents. As Mr Mamarelis pointed out: "It's all relative to the size and scale" of the facilty.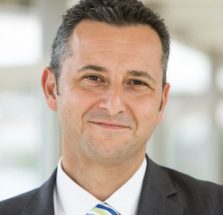 "Since the new year we've certainly seen a really high escalation in cases but pleasingly we're being able to manage these and have really positive outcomes overall." said Mr Mamarelis.
High levels of vaccination among both residents and employees, strict screening protocols, rapid antigen testing, improved infection control practices, and the availability of oral anti-viral medication are responsible for keeping COVID under control.
The situation is vastly improved compared to 18-24 months ago, said Mr Mamarelis, "where the impact on residents was far greater across the industry."
But one constant remains: workforce stress. "It's the one problem we don't have all the answers for – I hate to say it but it's a reality," Mr Mamarelis told AAA.
The answer lies in reinforcing the workforce. "Which is extremely challenging because a lot of that relies on funding and increasing rates of pay so we're waiting for government policy to impact some of those strategies," said Mr Mamarelis.
"We need to be able to invest further in the workforce, have our workforce become more resilient, continue to upskill them and, importantly, support their wellbeing," he added. "And we need more support from the Commonwealth in that regard."
Main image: Whiddon staff member conducts a rapid test
Comment on the story below. Follow Australian Ageing Agenda on Facebook, Twitter and LinkedIn, sign up to our twice-weekly newsletter and subscribe to AAA magazine for the complete aged care picture.