"What a year it has been since last time we gathered here in Adelaide – a time that has brought renewed hope to our sector." That was the opening remarks delivered to delegates attending the national conference of the Aged & Community Care Providers Association in Adelaide – Kaurna Country – on Wednesday.
During his 10-minute speech, ACCPA independent chairmain Dr Graeme Blackman told delegates seated in a packed hall of the Adelaide Convention Centre that the aged care royal commission had been a "critical inflection point" for the sector. But the commission also shone a light that the sector "desperately needed help".
For too long, aged care reform has been put in the "too-hard basket", said Dr Blackman. But "there is finally hope that we can build a sector that all Australians can be proud of."
The theme of ACCPA's second national conference is the Age of Change. "Change is never easy," Dr Blackman told delegates. "But it is very necessary to deliver a system that all older Australians deserve. We come here today knowing that the success of the changes ahead will be down to all of us."
Executing that change is "exciting, empowering and daunting," he added. Participating actively in reform, and moving beyond it to deliver true innovation is "fundamental to our success," said Dr Blackman.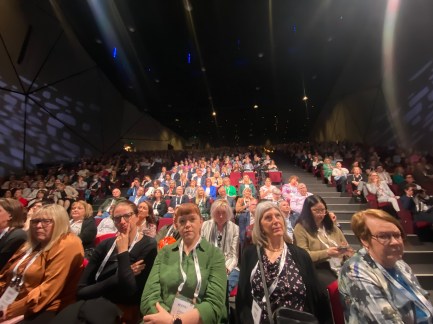 The ACCPA national conference is the largest gathering of aged care providers in Australia. More than 2,000 delegates from across the country have arrived in Adelaide for the event.
Over three days there will be more than 80 plenary sessions addressing subjects including Indigenous aged care, LGBTQI care, palliative care, dementia care, clinical governance, digital transformation, and home care reform.
High on the agenda: funding reform. Citing the intergenerational report, Dr Blackman said it showed "just how important it is that we reform the system so that it is fit for purpose now and into the future."
"Sustainability is the key," he added.
Dr Blackman said stakeholders had made great progress in engaging the government on the issue of funding reform which responded by establishing the Aged Care Taskforce.
The taskforce – headed by Minister for Aged Care Anika Wells, who will address conference on Friday – "represents our greatest chance in a generation to get aged care funding right," said Dr Blackman. "It's vital we take this opportunity to find the solutions and meet the challenges associated with an ageing population."
Dr Blackman closed his speech by announcing he'll be stepping down as ACCPA's inaugural chair in 2024 – 10 years after he took on the role at the peak body's predecessor Leading Age Services Australia. It's a role, Dr Blackman said, he has been "incredibly proud" to hold. The process to recruit Dr Blackman's successor will begin early in the new year.
Main image: Dr Graeme Blackman formally opens ACCPA's national conference
Comment on the story below. Follow Australian Ageing Agenda on Facebook, Twitter and LinkedIn, sign up to our twice-weekly newsletter and subscribe to AAA magazine for the complete aged care picture.