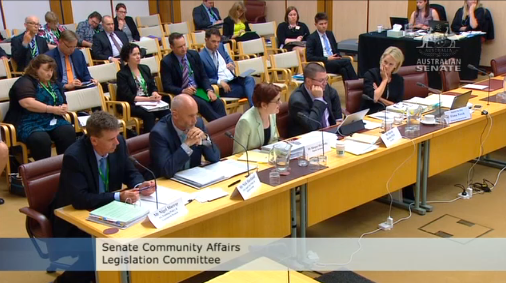 The issuing of $10,800 fines for repeated false claims under the Aged Care Funding Instrument (ACFI) will be a measure of last resort and likely to be used rarely, the Department of Health has said.
The department told a Senate estimates hearing this week that education, auditing, formal notification and reappraisal would be pursued with an aged care provider before a fine was issued.
Fiona Buffinton, first assistant secretary, access, quality and compliance, told the hearing on Wednesday that the issuing of a fine would be "very exceptional."
"If you look in recent years there would hardly be any cases of it, but it's just making sure that proportionately we have all levels of compliance available to us," she said.
The department could not tell the committee how many audited claims had been found to be deliberately false.
As part of the stronger compliance measures announced in the Mid-Year Economic and Fiscal Outlook, the department said it would be investing in improved IT and data capacity to better target its auditing processes.
"Instead of 20,000 light touch audits [a year], we will probably have a few less than 20,000 but a number that are much more detailed and through that we will learn a lot more about the program," said Ms Buffinton.
She said that the department wanted to focus more of its compliance activities on high-risk providers.
Increased scrutiny would have both a deterrence effect, by encouraging providers to pay more attention to the accuracy of their claiming, and support identifying patterns of concern, Ms Buffinton said.
For the first time, requests to reconsider a department's decision to downgrade a claim will incur a fee should the department's position be upheld.
The government's increased compliance measures are estimated to generate $61.9 million over four years.
By far the biggest area of savings – $475 million over four years – will come from amending the ACFI's complex healthcare domain.
The department said it was working with the sector and clinical experts to redesign the complex healthcare domain, which would make the criteria for claiming at the higher levels "more stringent."
"What we will be looking at is the criteria by which aged care services get to the higher price for complex care needs, so making that test more rigorous then it would otherwise have been," said Nick Hartland, first assistant secretary, aged care policy and reform.
The department reiterated its position that growth in ACFI expenditure was "unanticipated" and cannot be explained by a growth in the frailty of residents, which is refuted by provider peaks.
Mr Hartland said the funding instrument was being used in a way that was not intended.
The minister has previously referred to "sharp practices."
The department had been discussing the ACFI overspend and its cause with the sector's expenditure working group since the middle of last year.
Want to have your say on this story? Comment below. Send us your news and tip-offs to editorial@australianageingagenda.com.au 
Subscribe to Australian Ageing Agenda magazine (includes Technology Review)