The Commonwealth's controversial changes to aged care funding will cost the sector in excess of $2.5 billion over the next four years, almost $840 million more than the government has estimated, a major new analysis shows.
On foot of the figures, three major peak bodies representing not-for-profit aged care providers called for the next government to immediately halt the changes, as they would "have a major impact on the care of frail older Australians."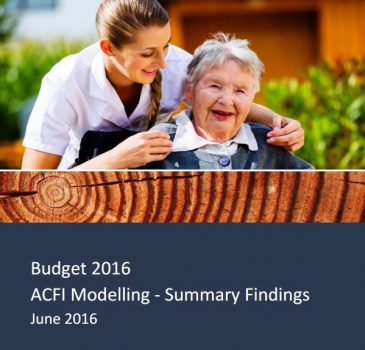 UnitingCare Australia, Aged & Community Services Australia and Catholic Health Australia commissioned consultants Ansell Strategic to undertake the research, which surveyed 501 aged care facilities nationally covering 39,000 residents.
The report found that the full implementation of the changes to ACFI would decrease annual funding per resident by an average of $6,655 – or 11 per cent. The analysis indicated the proposed funding cuts were significantly underestimated by the government, the peaks said.
The funding cuts would result in a net decrease in ACFI funding of more than $1.1 billion per year beyond 2020, the report found.
"The analysis demonstrates that the proposed funding cuts would have a devastating impact on aged care providers, particularly those caring for highly vulnerable people with complex care needs," the report said.
Last December the government announced it was cutting subsidies on certain claims in the complex health care domain to save $472 million over the forward estimates, and then surprised the sector in the May budget when it announced further changes to the ACFI in the same domain to save an additional $1.2 billion over four years.
Yesterday ACSA chief executive officer Adjunct Professor John Kelly said the proposed changes directly impacted on the care of the frailest residents in residential aged care. "We are talking about services, care and support for some of our most vulnerable citizens – in areas such as pain and medication management," he said.
Providers called for the cuts to be halted and a comprehensive review of the modelling undertaken with the engagement of the sector.
"A taskforce must be established to review the aged care funding process with a view to establishing a more sustainable model which provides certainty for providers, residents and their families and long-term affordability for taxpayers; and there should be an evaluation of the relative costs of providing care to frail aged people in nursing homes," said Adjunct Professor Kelly.
Steve Teulan, chair of the UnitingCare Australia Aged Care Network, said the government was "arbitrarily reducing the level of care assigned to frail older people in care," thereby reducing the level of funding available to deliver that care
"If these cuts are implemented as stated, by 2017 service providers will be forced to seriously consider both turning away sick old people who are seeking admission from hospital and reducing services, particularly allied health," said Mr Teulan.
Aged care funding cuts: Follow AAA's full coverage here
Want to have your say on this story? Comment below. Send us your news and tip-offs to editorial@australianageingagenda.com.au 
Subscribe to Australian Ageing Agenda magazine