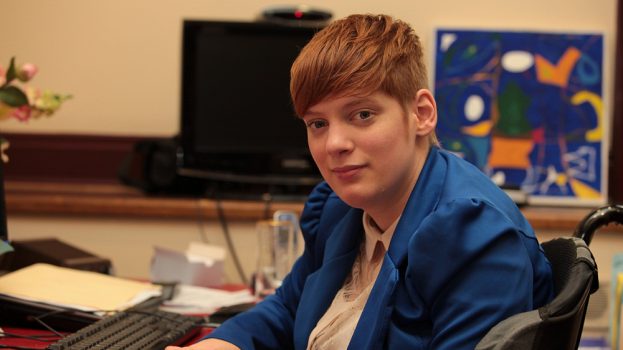 South Australia's recent move to legislate a requirement for developers to consider universal design shows what's possible when people with disabilities, older people and advocates lobby governments for accessible design.
That's according to Kelly Vincent, the Dignity for Disability Party's representative in South Australian Parliament and an instigator of the legislative requirement.
In February the state's parliament passed the amendment to the Planning, Development and Infrastructure Bill, meaning developers would be required to consider universal design for the benefit of all, including people with differing needs and capabilities.
The requirement was an Australian first and long overdue, said Ms Vincent, the youngest woman ever elected to an Australian parliament and the first to be elected on the platform of disability rights.
Speaking at the Universal Design Conference in Sydney last week, Ms Vincent said that the final amendment did not go as far as was originally planned.
"Certain lobby groups convinced the government that the cost of implementing universal design would place unjust and unnecessary impost on them. Such claims are utter rubbish," she told the conference hosted by Council on the Ageing NSW.
These claims reflected broader societal attitudes to universal design, where it was seen as a financial burden that would only benefit a select view, Ms Vincent said.
Experience showed that universal design was often cost neutral. When it did impose a cost, research showed it was between 0.5 and 2 per cent of the total project cost. "This is really small change, a tiny investment that makes a huge difference to society and the economy," she said.
Studies had also demonstrated the cost savings from universal design over the life course, particularly the reduction in falls and reduced admissions to public hospitals – savings that would increase with an ageing population, she said.
"You only need to take a walk through the city streets to see why we need to promote best practice," she said. "Ramps, where they're available, are often too steep. Road crossing ramps often don't line up, which are inconvenient and often dangerous. People with disability are a market force  and have rights to access every public space open to other taxpayers," she said.
But it wasn't just public buildings that universal design principles should be applied to, but also transport, private housing, employment, education and tourism, she said.
"If you don't ask, you don't get. With a serious compromise, we got," she said of the South Australian legislation. "We intend to continue getting."
Related AAA coverage: Inclusive neighbourhoods: project develops toolkit for councils
Want to have your say on this story? Comment below. Send us your news and tip-offs to editorial@australianageingagenda.com.au 
Subscribe to Australian Ageing Agenda magazine