The number of residential aged care places across Australia has increased 3.5 per cent in a year, a new report from the Australian Institute of Health and Welfare shows.
The total number of residential aged care places in Australia is up from 200,689 in 2016-17 to 207,695 at 30 June 2018, according to the GEN Aged Care Data report released this week.
The report shows there were 886 residential aged care providers, 2,695 residential aged care services, and an annual occupancy rate of 90 per cent in the 2017-18 financial year.
New South Wales has the most residential care places (70,536), followed by Victoria (54,599) then Queensland (38,846), which collectively hold four-fifths of all residential care places in Australia.
Similarly, the largest number of transition care places are in New South Wales (1,378), Victoria (1,000) and Queensland (733), with a total of 4,060 places offered by the transition care program in 2017-18.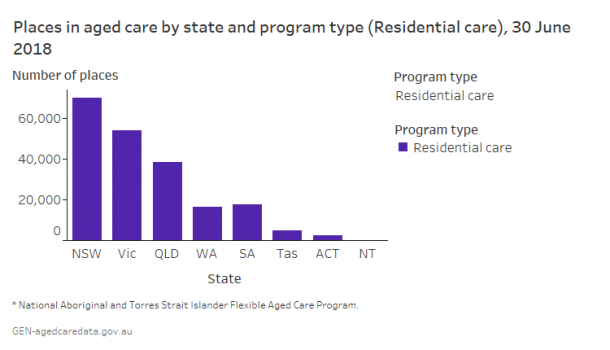 The short-term restorative care program has grown from 400 places in 2017 to 475 in 2018.
The number of National Aboriginal and Torres Strait Islander Flexible Aged Care Program places has increased from 820 in 2017 to 860 in 2018.
The Northern Territory has the largest number of operational NATSIFAC places (349) followed by South Australia (164) and Victoria (124).
In 2017-18, just over half of residential aged care services in major cities were not-for-profit organisations (53 per cent) and just under half were privately-owned organisations (45 per cent). Government-owned facilities make up 2 per cent of residential services in major cities.
The majority of residential care services in inner-regional areas were also not-for-profit organisations (63 per cent) in 2017-18 followed by privately owned facilities (19 per cent).
Similarly, not-for-profit organisations make up the largest proportion of outer-regional residential services (63 per cent), however, there are more government-owned organisations (25 per cent) than privately-owned facilities (12 per cent).
In remote and very remote areas, the majority of residential aged care services are not-for-profit (76 per cent) with the remainder being government-owned (23 per cent). There are no privately-owned residential services in remote areas, the report shows.
Access the report Services and places in aged care here.
Comment below to have your say on this story
Subscribe to Australian Ageing Agenda magazine and sign up to the AAA newsletter