Dementia care specialists HammondCare has opened a new aged care home catering for frail residents in Sydney's south.
Located in Miranda, the $25-million site addresses demand for frail aged care residents from the adjacent HammondGrove Independent Living Units as well as across the Sutherland Shire and surrounding areas.
As well as frail aged care, the multi-level Miranda Mason will provide a variety of aged care services including dementia-specific residential care, independent living units and respite cottages.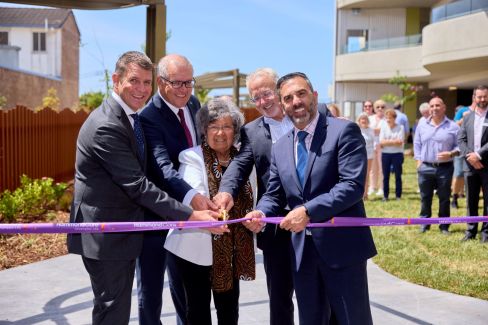 HammondCare chief executive Mike Baird opened the site along with federal member for Cook, former prime minister Scott Morrison, and Sutherland mayor, councillor Carmelo Pesce.
Mr Baird said the site's innovative design – by architect Peter Ireland from Allen Jack+Cottier – will be complemented by the relationship-based care provided to residents. "Miranda Mason is part of HammondCare's ambition to set the global standard of relationship-based care for people with complex needs," he said.
Mr Morrison said the new service would be a welcome boost to aged care options available to older people in his electorate. "HammondCare has been a trusted provider of aged care services in our community for many years and I am pleased that they are extending their commitment here in the Shire."
Mayor Pesce said the Miranda facility will extend opportunities for people to stay connected to their local community while receiving specialised residential support. "Sutherland Shire Council is keenly focused on supporting local residents to remain connected and engaged members of our community – no matter their stage of life."
The 60-bed facility is divided into six apartments of 10 residents, with two apartments on each floor. Community facilities are located on the ground floor which will contain a general store, multipurpose room and a recreational space.
The site was built by Total Construciton, which specialises in builds of aged care homes. "As a building contractor that has worked with aged care providers nationally, it is very rewarding for our team to have played such an active part in the evolution of the aged care model of care," said Total Construction founder and managing director Steve Taylor. "We have built and delivered an enviable aged care community where residents and their families will soon be calling home."
The first residents are expected to move into the Miranda site in November.
New respite cottage
In a further expansion, HammondCare has also opened an overnight respite cottage on Sydney's Northern Beaches for older people who are frail or living with dementia.
Located at Terrey Hills – and the first of its kind in the region – Bugari Cottage will offer specialised care by trained staff who will provide tailored lifestyle activities and entertainment.
Respite care is available at the site for periods of 10 consecutive nights for older people eligible under existing government-subsidised home care or who are self-funded.
Mr Baird said carers would benefit from the opening of the new site. "Carers can take a well-deserved break, knowing that their loved ones will be given compassionate, individualised care at Bugari Cottage supported by a homely environment and personalised engagement activities."
But it's not just about the respite needs of the carer, said Bugari manager Elaine Collins. "It's a wonderful enablement opportunity for each guest."
Bugari – the local Aboriginal word for ring-tailed possum – is the sixth HammondCare overnight respite cottage, including cottages at Dubbo and Goulburn which opened earlier this year.
Main image: HammondCare Miranda Mason exterior
Comment on the story below. Follow Australian Ageing Agenda on Facebook, Twitter and LinkedIn, sign up to our twice-weekly newsletter and subscribe to AAA magazine for the complete aged care picture.