Cook, author and mentor Maggie Beer recommends residential aged care services form a food council with staff representatives from all areas of the facility to improve meals. 
Ms Beer has been on a mission to change aged care food culture to one centred on fresh ingredients, great taste and wellbeing for residents since establishing the Maggie Beer Foundation in 2014.
She told delegates at the recent Health Metrics World Conference in Melbourne that changing a facility's food culture required a group effort.
Cooks, carers, health professionals and administration staff agreeing together that food is important is one of the most exciting things Ms Beer said she has seen.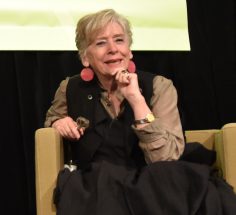 "They have a food council, a monthly food meeting, where ideas are shared and problems of each other are listened to," Ms Beer told the conference.
Every segment has difficulty so it's great communication and listening to other points of view is key, she said.
"And asking would the admin staff or the CEO like to be eating the food of the kitchen. Is this what I want to eat? It should be."
Ms Beer described food as sharing, nurturing, health and a touchstone to memories and happiness.
"Food is the essence of life… It is just something that when we do it well, it changes lives," Ms Beer said.
"Our common mistake is not knowing enough about food and not learning… It is so easy when you know how to cook and what foods are going to be so full of flavour and goodness and it just makes such a difference to your life."
Success indicators
It doesn't matter whether someone is a cook in aged care or in a restaurant they need ideas and encouragement to succeed, Ms Beer said.
She said around 260 aged care cooks and chefs have attended her masterclasses, and some participants become a train the trainer for the colleagues.
Afterwards, participants become a community to communicate with each other and the foundation for support and to share successes and recurring problems.
Ms Beer said a major success was when a facility:
takes boosters out of the kitchen
makes their own stocks
brings in butter instead of margarine
gets rid of cordials
uses fresh vegetables rather than frozen ones.
The change comes from the chef or cook but only if the CEO is a champion as well, she said.
'Bring in the smells of the kitchen'
One of Ms Beer's key messages is to ensure residents can smell food to increase their engagement and enjoyment at mealtimes.
Ideas include putting home style bread machines in the dining room to provide a lovely smell, she said.
"We also encourage people to use satellite areas where they are making coffee, morning tea and toast, to pan fry something, such as the last bit of vegetable to go on the plate. Just something. Even if it is onions and butter."
Facilities using a cook-chill approach can cook and add the last bit of the meal to bring in the scent of food, Ms Beer said.
"Even if it is just doing a pan full of onions and butter; something to bring in the smells of the kitchen."
New education program
Most of all aged care cooks and chefs need training to succeed, but there is no specialised education for them in Australia or anywhere in the world, said Ms Beer.
To help fill the gap, Ms Beer will start filming the first 11 of 45 educational units specific to aged care in collaboration with aged care education specialists Altura Learning and the support of a $500,000 Commonwealth grant.
The interactive training program will move away from a normal training system with a cook or chef in a college.
"It is bringing in all of the things I have learnt, the experts and the chefs who are already doing great things in aged care."
The first 11 units are due out in February 2020.
Comment below to have your say on this story
Subscribe to Australian Ageing Agenda magazine and sign up to the AAA newsletter