An increasing number of older people will be unable to pay a bond when entering residential aged care if outright home ownership among retirees continues to decline, expert says.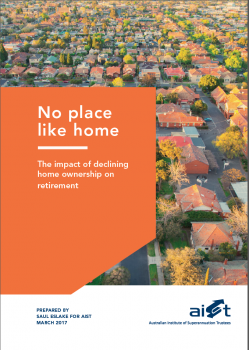 Leading economist Saul Eslake has sounded the alarm on current trends that threaten the assumptions underpinning Australia's retirement income system – that retired people will have low housing costs.
Those trends include a rising proportion of homeowners in their 50s and 60s with an outstanding mortgage debt as well as an increasing proportion of over 65s living in private higher-than-average rental accommodation.
Mr Eslake outlined the trends in a report commissioned by the Australian Institute of Superannuation Trustees, which was released yesterday.
He argued that if these trends continued it was likely an increasing number of new retirees would use their superannuation to pay off their mortgage, potentially becoming more dependent on the age pension than currently assumed.
Similarly, retirees living in privately rented housing who were spending a higher proportion of their income on rent could put pressure on government to increase rent assistance, the age pension or both, Mr Eslake wrote.
Impact on aged care bonds
Mr Eslake said that declining rates of home ownership would also have an impact on the Federal Government's aged care spending.
"… if the proportion of people entering retirement as home owners continues to decline, a growing proportion of those who subsequently need to enter residential aged care will be unable to post an accommodation bond financed from the proceeds of selling their house," he wrote.
Mr Eslake said that the failure to address the ongoing deterioration in housing affordability would condemn future retirees to poorer living standards and impose a higher tax burden on the diminishing number of workers.
Tackling older women's homelessness
Meanwhile, a new initiative is working to tackle the increasing levels of homelessness among Australia's seniors.
The RDNS Institute's Older Women Living Alone research project is working to understand the reasons driving homelessness and create better services.
The project, which has been funded by a $250,000 grant from the Melbourne Lord Mayor's Charitable Foundation, is analysing 10 years of data from 50,000 older women living alone in Melbourne.
It will also interview 50 women aged 55 or older who live alone to identify barriers to service access and gaps in service provision, and forums to bring women together with service providers to create services that address their needs.
Comment below to have your say on this story
Send us your news and tip-offs to editorial@australianageingagenda.com.au 
Subscribe to Australian Ageing Agenda magazine and sign up to the AAA newsletter