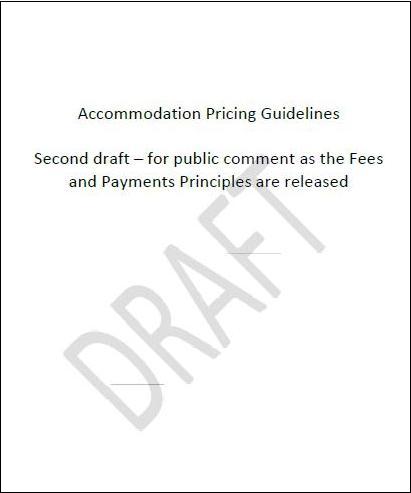 The government is calling on the aged care sector to comment on its draft guidelines and legislation on accommodation pricing and significant refurbishment arrangements for residential aged care.
The five consultation documents released by Minister for Ageing Jacinta Collins last Friday will inform the staged implementation of the related Living Longer Living Better reforms, which begin from 1 July 2014.
The new policy aims to promote more transparency in accommodation pricing arrangements and greater investment in the sector.
Senator Collins said she encouraged the sector to provide feedback about the implementation arrangements outlined in the documents.
More information and links to the documents can be found on the Living Longer Living Better website or individually at Accommodation Payments and Pricing and Significant Refurbishment. Direct links to documents below.
The consultation period ends Tuesday, 3 September 2013. Comments can be emailed to FFBConsultation@health.gov.au.
Accommodation Payments and Pricing
Exposure Draft Fees and Payments Principles 2013 (PDF)
Exposure Draft Aged Care (Maximum Accommodation Payment Amount) Determination 2013 (PDF)
Draft Accommodation Pricing Guidelines (PDF)
Significant Refurbishment
Exposure Draft Subsidy Principles 2013 (PDF)
Draft Guide to the Significant Refurbishment of Residential Aged Care Services (Significant Refurbishment Guidelines) (PDF)