The proportion of aged care providers making a loss has fallen, according to the sector's latest financial report.
Released on Wednesday, the Quarterly Financial Snapshot – October to December 2022 showed the number of residential aged care providers operating in the red had reduced from 66 per cent to 54 per cent.
Speaking at the National Press Club of Australia, Minister for Aged Care Anika Wells said the data was evidence that the Albanese Government's aged care agenda was working. "Our reforms are making a tangible difference to providers," she said.

The October to December QFS – which is a point-in-time analysis of the financial performance of Australia's aged care – also shows a slight improvement in the average amount of care minutes residents receive – 189 minutes of care per resident per day, compared to 187 minutes for the period July to September 2022.
This moves providers closer to meeting the 200 care minutes, which become mandatory from 1 October 2023.
The latest QFS provides the first insight into the financial performance of residential aged care providers and the delivery of care minutes under the new Australian National Aged Care Classification funding model, which commenced on 1 October 2022.
As a result of AN-ACC, the snapshot shows an improvement in the overall financial performance of the residential aged care sector of $7.66 per resident per day.

However, this still translates to a net loss of $20.24 per resident per day – compared to $27.9 the previous quarter.
In better news, the percentage of profitable residential aged care providers grew by 12.5 points to 46.4 per cent.

QFS data shows the quarter 2 median total labour costs reported by the sector was $173 per resident per day – consistent with quarter 1.
Labour costs include:
registered nurses
enrolled nurses
personal care workers
care management staff
allied health
diversional/lifestyle/recreation/activities staff
other non-care staff.
As for wages paid, the average hourly rate for direct care staff was $45 for registered nurses, $33 for ENs, and $27 for personal care workers – again consistent with the first quarter.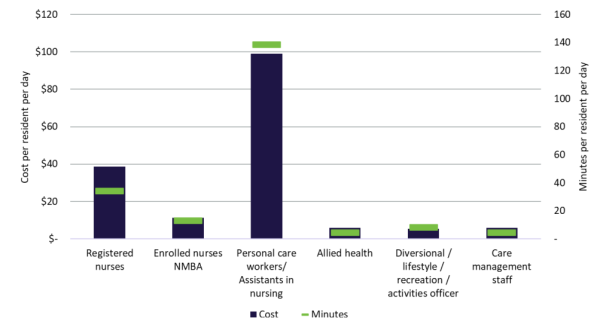 The snapshot also shows that the quarter two median staff cost and time per resident per day was $38.70 and 34.29 minutes for RNs, $11.15 and 12.85 minutes for ENs, and $98.98 and 138.44 minutes for personal care workers.
The median total cost and time for allied health workers per resident per day was $5.80 and 4.6 minutes – down from the previous quarter which recorded $7.10 and 5.6 minutes.

Reporting on food and nutrition, the snapshot shows providers spent $13.17 per resident a day, with an average of 80 per cent spent on fresh food and ingredients – an increase of 77 cents compared to the previous quarter.
Home care
Focusing on home care, the latest QFS shows providers' profit margins decrease by $1.41 – $3.59 per recipient per day compared to $5.00 July to September '22.

The percentage of profitable home care providers fell by 4.6 per cent to 73.8 per cent.
Collectively, home care providers made a net profit before tax of $138.5 million during the October to December period.
Median total staff cost was $44 per care recipient per day – down a dollar from the previous quarter.
Hourly rates remained more or less consistent with quarter 1: $50 for RNs, $37 for ENs and $32 for personal care workers.
Comment on the story below. Follow Australian Ageing Agenda on Facebook, Twitter and LinkedIn, sign up to our twice-weekly newsletter and subscribe to AAA magazine for the complete aged care picture.