Understanding your staff and their experiences at work is key to making aged care a better place to work, an industry conference has heard.
These thoughts were shared by Jennene Buckley – a founding partner at Enkindle Consulting and former chief executive officer Feros Care – and Narelle Holliday, regional business manager at Victorian aged care provider Benetas at the Aged Care Transformation stream of Victorian Healthcare Week in Melbourne.
The pair took part in a discussion on Wednesday moderated by Australian Ageing Agenda editor Natasha Egan on re-defining the value of work and workforce in aged care that asked for their key message on what providers could do to make things better.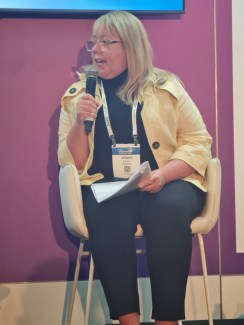 "For me, it is truly understanding your employees' experience and developing a strategy based on what you hear back from your insights that you've undertaken with your staff," Ms Buckley told delegates.
"Know your staff. Show them that you know them, and they will work well for you," added Ms Holliday during Wednesday's panel discussion.
Fellow panellist Julianne Parkinson – chair of the stream and chief executive officer of the Global Centre for Modern Ageing – talked about the role technology has to play in attracting younger workers.
"Don't underestimate the way in which we can build the narrative of technology and being a person-centred care environment to attract younger generations of those who are tech enthusiasts or technically strong to enter into aged care in ways that aren't traditional in the workforce arrangement that we have today or that we've had in the past," Ms Parkinson told delegates.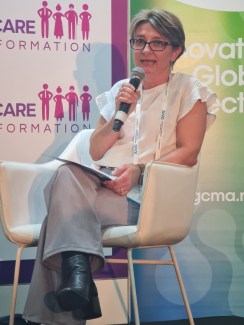 On ideas for changing the perception of aged care from a simple job to one viewed as offering a fulfilling career path that provides purpose and meaning, Ms Holliday referred to it as "making aged care sexy again". She suggested everyone had a role to play in identifying opportunities. "I think we need to sell more stories and share the impacts we have found."
Through its research, Benetas has found fostering connections key to fulfilling workplaces and that includes connections between workers and clients as well as connections within teams and across levels.
"The connection point is really important in a home environment. It's one on one. It's a very privileged relationship where the storytelling comes freely. And that's a wonderful part of the job." At Benetas this includes trying to match care staff and client passions. "But that connection with the staff that they report to as well, Especially working remotely, where we can't walk past them and see that they've a frown on their face. We need to touch base with them at those touch points with a face-to-face connection."
It is fundamentally important for providers to offer a good place to work, added Ms Buckley. That means organisations understanding the pain points and moments that matter for staff and "developing that employee experience so that we collectively start to build an industry or a brand where aged care is seen as a good place to work," she said.
She likened it to the process of building an understanding of the client experience – in this case starting from the moment someone inquires for a job through to onboarding, working conditions, communication and how staff are supported, supervised and managed.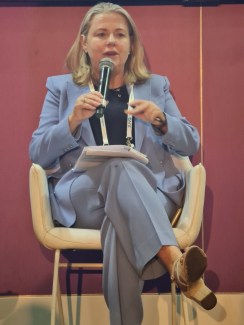 "I listened to a futures conference recently, and when they were talking about workforce, they said, 'A-grade staff don't come and work for B-grade managers'. And so it's about the importance of our capacity – of our managers – to be able to support our staff."
It is also "about rebuilding that sense of pride and passion" that aged care is filling an essential role that the community couldn't live without, added Ms Parkinson.
"This is a really important thing to celebrate. We shouldn't lose sight of the important and critical role aged care plays," she said.
Main image: The re-defining the value of work and workforce panel at Victorian Healthcare Week (L to R) Natasha Egan, Julianne Parkinson, Jennene Buckley, Narelle Holiday
Australian Ageing Agenda is a media partner of Victorian Healthcare Week, which ran 18-19 October at the Melbourne Convention and Exhibition Centre
Comment on the story below. Follow Australian Ageing Agenda on Facebook, Twitter and LinkedIn, sign up to our twice-weekly newsletter and subscribe to AAA magazine for the complete aged care picture.