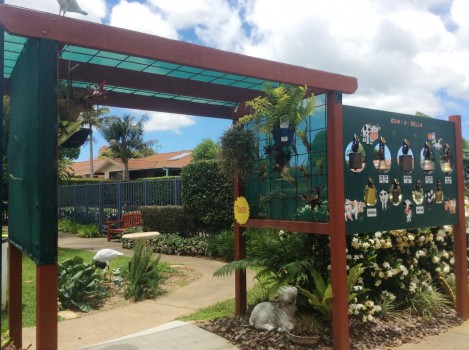 It's no secret that residential aged care is becoming increasingly high care. The expansion of community aged care signals the end of what were low care facilities, while dementia and palliative care is increasingly becoming the core business of residential care.
But despite the shift to high care, a growing movement of providers is cautioning against facilities mimicking hospital models at the expense of home-like features.
Specifically, they are re-stating the importance of gardens and outdoor spaces as effective tools in "memory care" and promoting psychological and physical wellbeing of both residents and staff.
Greg Price, residential manager at BaptistCare Maranoa Centre, said a decision to be more than a "sterile, clinical environment" led to his facility developing both an elaborate sensory garden and a rejuvenated tropical rainforest.
"Our mistake in aged care is that we tend to copy the hospital-type models a bit and have a clinical approach. We have to have that for care reasons – we are a care facility – but we're also people's home," Mr Price told Australian Ageing Agenda.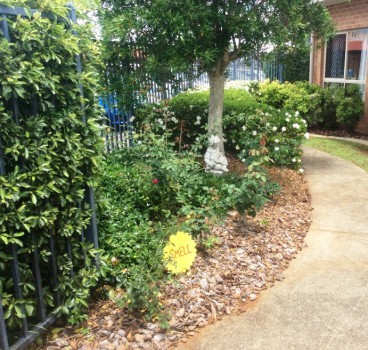 The centre's sensory gardens were two years in the making, informed by a literature review and trips to various botanic gardens.
Among the features of the gardens are a Japanese section, rose garden, veggie patch, raised garden bed, a fernery, and knickknacks dotted throughout as well as sculptures created by a local artist.
Every afternoon a group of residents go out and walk among the 100 meters of pathway that winds through the gardens, said Mr Price. Many sensory features, such as cowbell instruments and various signs, are designed to attract interest and trigger memories.
The centre engaged the local garden club to assist with selecting the plants for their scent and flowers. "We had to be careful in picking the types of vegetables that we planted so that they're easy to access, don't contribute to people falling over and are edible," said Mr Price.
Rainforest project
Just 50 meters from the gardens, on what was previously discarded land, Maranoa Centre residents are also now enjoying a rejuvenated rainforest – a fairly unusual feature for the middle of a town.
With guidance from rainforest experts, and the support of community network Landcare, the facility successfully rejuvenated the site, planting around 80 trees and adding numerous pathways and planter boxes.
The rainforest, now home to 53 different species, provides a relaxing and cool outdoor area for residents to enjoy on a hot day, Mr Reid said.
"Some of the residents used to play there when they were kids, under the trees; they remember it really fondly. Some of them still go down there, many years later in their life, and enjoy the same area," he said.
Areas for 'discovery'
Another residential aged care provider utilising outdoor spaces is IRT, which recently opened its "laughter garden" at IRT Sarah Claydon, Milton, on the NSW south coast.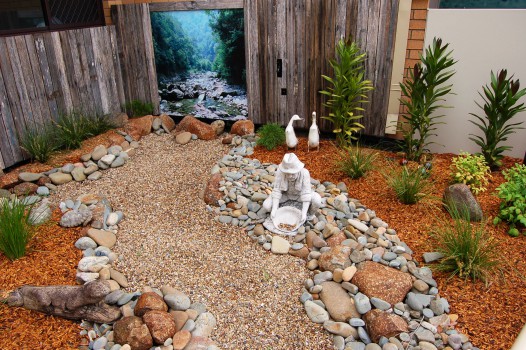 The garden provides areas for activity and discovery, including a walking track, a stylised creek and statues of Australian wildlife, said Cheree Howe, IRT area manager Southern Shoalhaven.
The $120,000 expansion and upgrade of the garden was designed by IRT in collaboration with the Dementia Training Study Centre at the University of Wollongong.
Karen Lissa, whose mother Marie McKillop is a resident at the facility, said she was excited to see her mother enjoying the new garden. "Mum loves gardening and I'm sure she really misses it. I am hoping the new garden and mural will encourage her to spend more time outdoors," she said.
Ms McKillop said she enjoyed the Australian animal statues placed throughout the garden. "I think the garden is beautiful; I watched it being built from our TV room upstairs. Now I'll be able to walk around more outside," she said.
Want to have your say on this story? Comment below. Send us your news and tip-offs to editorial@australianageingagenda.com.au 
Subscribe to Australian Ageing Agenda magazine (includes Technology Review)