The expansion of the private aged care sector continues, with for-profit providers awarded two thirds of the government's annual allocation of new aged care bed licences.
While for-profit providers currently make up around 35 per cent of industry ownership, they were awarded 63 per cent of the 10,940 new bed licences in the 2015 Aged Care Approvals Round – a figure largely in line with their allocation in last year's round.
The major private residential operators also made up nine of the 10 largest allocations of residential places.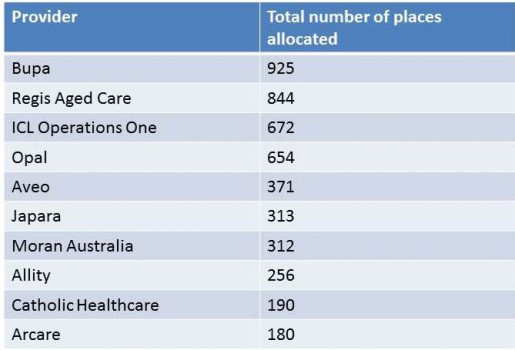 In his analysis of the latest ACAR, Nick Mersiades of Catholic Health Australia also pointed out that many of these providers, particularly the publicly listed companies, had also been acquiring existing facilities in recent years in order to build up their portfolios.
This year's round also saw a significant allocation of bed licences to retirement living operator Aveo, which has been ramping up aged services provision in its villages through a series of partnerships with aged care providers.
In total, some 73 not-for-profit providers were allocated 2,977 new residential places, with 10 providers allocated more than 100 places, an analysis by the Ideal Consultancy found. In contrast, 50 for-profit providers were awarded 6,740 places, with 15 providers allocated more than 100 places. Three for-profit providers were allocated more than 500 places.
Overall, demand for new residential places vastly exceeded the available supply, continuing the trend of recent years, although the department acknowledged that "competition was much stronger" in this year's round.
There were applications for 38,859 new residential places, more than double the amount sought in the 2014 ACAR. This equated to four new places sought for every place available.
Around 62 per cent of bed licences were allocated for the development of new residential services, while 38 per cent were allocated to expand or upgrade existing facilities.
Community: demand exceeds supply by 20 to 1 ratio
Like residential aged care, demand for community care places far outstripped what the government made available.
There were 126,808 home care packages sought for the 6,445 being allocated by the Commonwealth – an almost 20 to one ratio.
Packages were allocated to 114 home care providers nationally. The Ideal Consultancy analysis showed the biggest allocation of places went to Feros Care (435 packages) followed by integratedliving (372 packages), UnitingCare NSW/ACT (362 packages), Annecto (288 packages) and HammondCare (230).
The government made a significant revision to the number of high care packages being allocated, following widespread sector feedback of unmet demand for level 3 and 4 packages and vacancies in the levels 1 and 2 packages – as reported by Community Care Review.
The 6,445 home care places included 5,995 level 3 and 4 packages, which was an increase of 55 per cent on the 2014 ACAR. In fact, more than 90 per cent of this year's home care packages were high care.
This was the last ACAR to include the allocation of home care packages. From February 2017, package funding will be allocated to the consumer rather than the aged care provider.
Correction: An earlier version of this article inadvertently omitted ICL Operations One from the list of 10 largest bed allocations.
Want to have your say on this story? Comment below. Send us your news and tip-offs to editorial@australianageingagenda.com.au 
Subscribe to Australian Ageing Agenda magazine (includes Technology Review)