As the 2022 federal election campaign enters its final hours, aged care remains a core concern for many voters, said Paul Sadler – incoming interim CEO of new peak industry body Aged & Community Care Providers Association.
"It's more than a year since the royal commission delivered its recommendations and aged care has not only remained in the national conversation, it is top of the agenda for voters at the federal election," Mr Sadler told Australian Ageing Agenda.
Aged care issues have received unprecedented coverage during the six-week campaign. There are two major reasons for the prominence given to aged care: the royal commission's recommendations for reform and the COVID pandemic.
On both, aged care peaks and advocacy groups have been lobbying hard for government action and assistance.
Speaking at the ACSA National Summit earlier this month, Mr Sadler told delegates to give themselves credit for sending out a loud message that the industry was in crisis. "We have been strident in making it clear and that has fed into the political environment," he said.
How the parties stack up
The Labor party brought aged care front and centre to its political agenda when issues facing the sector led its Budget reply on 1 April.
In a statement to parliament, Opposition leader Anthony Albanese unveiled an additional $2.5 billion to fix the sector. It includes:
a fully funded wage increase for workers
an increase in care workers
higher food standards
more funding for the Aged Care Quality and Safety Commission
criminal penalties for providers who fail to report abuse of residents
registered nurses on site 24/7 from July 2023.
Regarding the last pledge, Mr Albanese was questioned on how Labor would be able to provide aged care homes with around-the-clock RNs when the industry is in the midst of a workforce shortage.
By the end of the month, and much deliberation, the ALP announced that in order to fulfil its RN pledge it would recruit care workers from overseas as a "stopgap measure".
For its part, the Coalition committed to facilities requiring an RN onsite 16 hours a day from October 2023 in last year's Budget as part of its response to the royal commission recommendations.
Overall, the Coalition hasn't offered the aged care sector much that's new during the election campaign aside from a Budget pledge to provide more than $345 million to embed pharmacy services within aged care homes to improve medication management for residents.
In its election manifesto, the Greens have pledged to phase out for-profit providers. In a statement, Greens leader Adam Bandt said: "Big corporations are making over a billion dollars a year in profits in aged care. The public shouldn't be buying Maseratis for aged care corporate executives."
The Greens have also promised to:
increase hours of care to four hours and 18 minutes per resident per day
end physical and chemical restraints
improve transparency and accountability.
Workers' wages
Other aged care issues that have been circling the election campaign include:
funding sustainability
a rights-based Aged Care Act
mandated staff-to-resident ratios
mandated minimum qualifications for personal care attendants
better – and ongoing – staff training
occupational violence.
One of the hottest aged care topics has been workers' wages.
Timed to coincide with the election campaign, hundreds of aged care workers walked off the job this month in protest of low pay.
Staff from some of Australia's largest aged care providers in Queensland and Western Australia participated in the strike in support of a 25 per cent pay rise.
A second day of industrial action is planned for Friday in South Australia and Queensland.
"[The election] has helped focus attention and put the spotlight on the need for action and greater respect for better pay for aged care workers," Mr Sadler told AAA.

To help those Australians for whom aged care is a priority issue evaluate their vote, the Australian Aged Care Collaboration, which represents providers, has developed an election scorecard showing the major parties' stance on the following issues:
funding for current gaps in staffing and COVID-prevention costs
funding for an increase of minutes of direct care
funding for a wages' increase determined by the Fair Work Commission
funding for 24/7 nursing
needs-based allied health funding.
The scorecard shows whether a policy is:
substantially or fully committed to
partially committed to/or in place
not committed to/in place.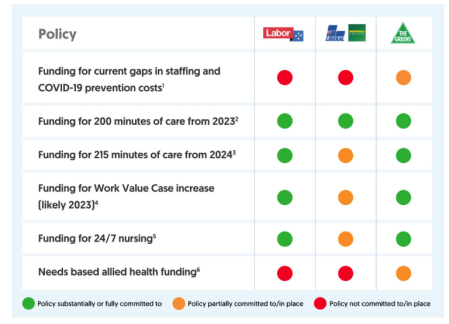 As the scorecard indicates, none of the parties are tackling funding and workforce gaps in the short-term. There are also no comprehensive commitments on allied health for aged care.
Labor and the Greens have said they would fund a workers' wage increase and are committed to increasing care minutes and nursing coverage.
The Coalition – while indicating it supports those policies – has avoided fully committing to funding such measures.
In a statement, the AACC said: "Australians have made it clear – they expect quality aged care for everyone who needs it, and they see this as a priority for any incoming government."
The AACC has said it will continue to push for a supplement for wages, training and nursing costs. A bipartisan collaboration, the AACC will also continue to lobby the incoming government to fully fund a minimum wage increase for aged care workers.
Whichever party wins power, the AACC is calling on the next federal government to act on aged care reform within its first 100 days in office. "It's time to ensure that older Australians get the care they need and deserve once and for all."
Comment on the story below. Follow Australian Ageing Agenda on Facebook, Twitter and LinkedIn, sign up to our twice-weekly newsletter and subscribe to AAA magazine for the complete aged care picture.