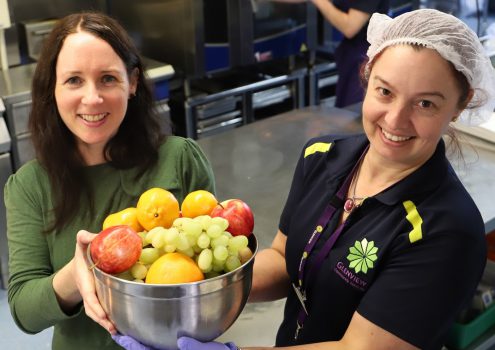 A project in Tasmania involving two aged care facilities is developing nutritional strategies that reduce malnutrition among residents.
There has been much talk about malnutrition among aged care residents recently including at the Royal Commission into Aged Care Quality and Safety, which heard that half of residents are moderately or severely malnourished.
It also heard that a number of older people are entering care services without adequate levels of nourishment and once in care remain malnourished.
To address this topic, Dr Emma Lea, senior research fellow at the Wicking Dementia Research and Education Centre at the University of Tasmania, is working on a two-year study testing a whole-of-organisation intervention to enhance the ability of staff to deliver best-practice care and nutrition.
"It's really important that older people have well-balanced and consistent nutrition in terms of their quality of life, having positive health outcomes and maintaining their independence," Lea tells Australian Ageing Agenda.
Lea says her previous research has shown her that aged care staff need more knowledge on nutrition to be able to improve residents' nutrition levels and quality of life.
"Providers need to be aware that staff do need more education and training, particularly as it might affect residents with dementia, and evidence-based practices to be able to facilitate effective nutrition and hydration for older people in their care," she says.
The study, Meaningful Engagement in Nutritional Understanding: Best Choices for Aged Care (MENU), is funded by a $90,000 grant from the Tasmanian Community Fund and involves working with staff and 15 residents with dementia at two Tasmanian aged care facilities. It aims to implement a range of nutritional strategies at each facility to reduce the prevalence of malnutrition among residents.
"We are working closely with staff to provide tailored nutrition education and to identify the most important needs of residents living with dementia," Lea says.
The study involves five workshops with staff to provide insight into the facility's current nutrition practices and identify gaps in staff care practices and knowledge on nutrition.
"We are working with staff at the workshops to choose and implement the best evidence nutrition care practices and feed it to their particular organisations," Lea says.
Staff will implement the strategies into care practices with guidance from nutrition champions, who will support staff and help drive change in the organisation. Lea and her team will monitor the implementation of strategies and seek feedback from staff throughout the study.
During the MENU study, Lea says she hopes to share knowledge about good nutritional practices with staff and turn these conversations into strategies to improve the care and nutrition of residents.
"I'm hoping that by engaging staff, it will sustain change and that if we can fine tune this model, we can get it out there and maybe other aged care homes can implement similar models. There is an importance of getting staff to be engaged so they feel empowered to make change and ensure it is sustainable."
Lea's MENU study was informed by a small pilot study she undertook in 2015. It involved seven residents with dementia, interviews with seven family- and 11 staff-members and a facility document audit at a Tasmanian aged care facility. It evaluated the barriers to best-evidence resident-centred care.
Among the findings was that aged care staff had a lot of ideas to improve aged care residents' nutrition, but they often lacked support to initiate these changes.
"There needs to be a participatory approach to overcome barriers, including working with staff to help them support residents they care for and make any ideas they have about care practices come to fruition.
"Good nutrition is about more than just the nutritional content of food, it's about the whole food experience like the dining room setting, the environment and social interaction," Lea says.
Another finding was that staff may have access to effective strategies but they weren't always using them effectively. For example, staff might use prompts to encourage residents to eat, but they were not working and didn't increase the amount of food residents ate.
"There are tips out there that should be used as short direct prompts to get residents to act on eating, as well as the positioning of drinks, which might not always be in reach. These are some small changes that staff could make to be more effective," Lea says.
Other identified barriers included a lack of meal choice and eating being seen as a task rather than an enjoyable social activity, she says.
At the end of the MENU study, a 10-minute educational video will be developed to inform aged care providers about the nutritional requirements of residents with dementia and how they can implement best practice care strategies into their organisation.
Lea is now analysing the MENU study's baseline data and is expecting to finish the research by the end of 2020.
This article appears in the current July-August edition of Australian Ageing Agenda magazine.
Comment below to have your say on this story
Subscribe to Australian Ageing Agenda magazine and sign up to the AAA newsletter