The changing needs of retirement village residents combined with ageing housing stock is challenging the retirement living sector, a forum has heard.
The average age of residents in retirement villages is now 80 – up from 55 two decades ago – and seniors are now entering retirement villages aged 75, a number which is rising each year, says Ben Myers, executive director of retirement living at the Property Council of Australia.
Across 2,200 villages nationally, there are 184,000 retirement village residents accounting for almost 6 per cent of the over-65 population.
"The average age of our retirement village stock is 24 years and that in itself presents some challenges when it comes to this issue of appropriate housing," Mr Myers told the Council on the Ageing Australia's 2017 National Policy Forum in Canberra yesterday.
While people generally moved to retirement villages in order to live independently, rather than to receive care, things were changing fast, Mr Myers said.
"If you were at a retirement village conference two years ago and said you were going to be involved in the delivery of care, your colleagues would have asked if you were crazy. But increasingly retirement villages – through the Living Longer Living Better reforms – are becoming places where people go to and look to for care."
The changes in mobility and cognitive needs of residents are presenting a problem in the function of village accommodation, he said.
"When we are talking about older people wanting to live in their village for longer and looking to that village for care, we as an industry have some issues to deal with in terms of obsolescence of our properties over the coming years."
Accessibility of retirement villages is another issue for the industry, Mr Myers said. The average entry price for a resident was $398,000, which would be a challenge for a lot of seniors, particularly those in regional areas where housing prices are lower.
However, new models are emerging, such as the fast expansion of the manufactured home model in recent years, which is particularly viable and attractive in regional areas, he said.
Mr Myer reiterated comments from Grattan Institute CEO John Daley that governments across Australia had to do more in the planning space to enable more seniors housing to be built.
"Affordability comes down to both the provision of affordable seniors housing, but also the ability of developers of retirement villages to be able to cut out some of the red tape burdens they have across the country, which are more than for other developers."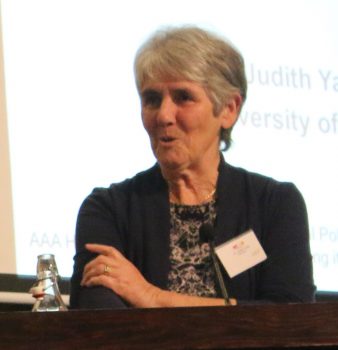 Struggle for seniors in private rental
Elsewhere, numerous speakers at the forum noted the hardship facing seniors in private rental.
Dr Judith Yates, a housing economic, finance and policy researcher at University of Sydney, said the big problem was for those in private rental, who were spending more than 30 per cent of household income on housing with some paying 50 per cent or more.
Using income as a measure of wellbeing was not effective because many older homeowners had considerably greater wealth than older renters.
Around 126,000 older households, which is 6 per cent of the two million older households nationally, are in private rental today.
While that number is relatively small, Dr Yates said her "back of envelope estimation" showed  the proportion of private renting seniors would jump to 20 per cent over the next few decades.
For low income, low wealth renters more affordable social and private rental housing was needed, Dr Yates said.
For retiree households with modest income and modest wealth, policies needed to help people access the equity in their homes and downsize their accommodation, she said.
While for those retiring with adequate income and wealth, policies should look at including the family home in the assets test and reforming the tax system.
Australian Ageing Agenda was the event's media partner.
Related AAA coverage:
Comment below to have your say on this story
Send us your news and tip-offs to editorial@australianageingagenda.com.au 
Subscribe to Australian Ageing Agenda magazine and sign up to the AAA newslette