Photo by Thais Silvestre
By Yasmin Noone
The national depression initiative, beyondblue, has set its sights on aged care training having just officially released a new professional education program to help sector staff better recognise the signs of depression and anxiety in older populations.
The new training program launched this week, Making a difference: Understanding depression and anxiety in older people, contains material which fits in with all accredited aged care training courses and consists of student workbooks, facilitator guides, DVD clips and a podcast.
Aged care-specific training is a first for the advocacy, policy and education organisation, with the newly developed program on offer for free to eligible Registered Training Organisations (RTO).
beyondblue is now asking RTOs to apply for the new program through its website.
CEO of the organisation, Kate Carnell AO, said the new training program will enable RTOs to deliver content on depression and anxiety in older people as part of Certificate III in Aged Care and Home or Community Care.
"It is terrible that the cumulative effect of numerous risk factors including illness and isolation means older Australians are particularly vulnerable to depression and anxiety," Ms Carnell said.
"But this new training program means students will receive an excellent grounding in the signs and symptoms of depression and anxiety when they enter the aged care workforce.
"The community must do everything it can to ensure the good mental health of older people and we believe this will help significantly."
The new training course builds upon beyondblue's Professional Education to Aged Care (PEAC) program, which aims to improve the aged care workforce's understanding of depression and anxiety disorders in older people.
It includes an existing unit of competency, CHCICS 303A – Support individual health and emotional wellbeing, which is a compulsory unit of Cert III in Aged Care and an elective for Cert III in Home and Community Care.
The training materials were designed for a face-to-face delivery and the duration of the program will vary organisation to organisation. The materials include in-class activities, personal study tasks (students complete in their own time), reflections and more.
The course has the full support of the state-based peak body, Aged and Community Services Association (ACS) of NSW & ACT.
"The course is subsidised and endorsed by DoHA which makes the training affordable and available," said ACS NSW & ACT community care policy adviser, Ruth Wilson.
"I'm not aware of [another organisation or program] that's so backed up by the Commonwealth with substantial enough money to make it happen."
Ms Wilson said she encourages providers to train staff to better deal with depression and anxiety, as these are the two major mental health issues occurring in the older population. But, she added, staff should also know how to deal with or refer older people with all kinds of mental health issues. And mental health staff training should be part and parcel with the provision of person-centred care.
"The way we sometimes provide care can be ageist…Care can be well intentioned but we can make a statement that fails to see the person as they are.
"They shouldn't be dismissive and say, 'they are aged. What do you expect?' They should see an older person as someone who is able to benefit from treatment, who has the ability to recover [from a mental health condition], and therefore take the issue seriously and provide appropriate care and referrals."
Increasing need. A vital response
The beyondblue program was developed after two years of work, with the assistance of the Community Services and Health Industry Skills Council (CS&HISC) to more formally recognise depression and anxiety within aged care qualifications.
CS&HISC's communications manager, Rhoni Stokes, said the organisation acted on an increasing need to supply the sector with more depression/anxiety issues training.
"CS&HISC has been hearing from service providers that the incidence of anxiety and depression in aged care clients is more prevalent than it was several years ago," Ms Stokes said.
"Our 2012 Environmental Scan highlighted the need for care workers in the home to be equipped with a broader range of skills including the ability to identify the signs of early onset depression and other mental illnesses, as they are often the only regular contact for these clients."
"This is also true for workers in aged care facilities. With all the qualifications in both the Community Services Training Package and the Health Training Package currently under review and entering the consultation phase, it can be expected that we will be hearing from industry on this and other changes occurring in client care that the qualifications will need to address.
"Greater awareness and training that supports aged care workers in meeting their clients' needs is always valuable."
Ms Wilson also confirms that increasingly, more aged care providers are starting to "think about and recognise issues relating to the mental health of older people, and creating services to respond to the issues".
The peak body held an interactive forum, The Mental Health of Older People-Connecting Sectors, last week in Sydney to raise the awareness of these issues and promote best practice.
It was held in collaboration with the Mental Health Coordinating Council (MHCC) to strengthen connections across the aged care and mental health sectors.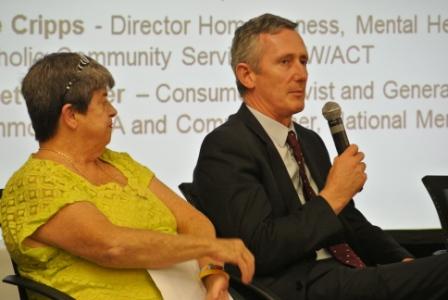 Last week's forum addressing mental health issues in the older population: John Feneley (right), the newly appointed inaugural Commissioner of the NSW Mental Health Commission and Janet Meagher, an international consumer advocate, speaker and lecturer.
Ms Wilson said the strong presence of consumers and carers assisted the conversations to remain grounded and set the stage for participants as issues associated with the ageing of people with mental health problems were considered.
Research from the National Ageing Research Institute (2009) reveals almost 35 per cent of older people in residential care will experience depression, while around 30 per cent of older people living in the community will experience it. These rates are at least double the general population risk.
For more information or to register go the older persons' page on the beyondblue website or email agedcare@beyond blue.org.aublue.org.au