Only a fraction of residential aged care homes have the workforce capacity to meet incoming nurse and care staff requirements, according to a new report.
In the third edition of Australia's Aged Care Sector Report released today, researchers from the UTS Ageing Research Collaborative say – out of 1,099 aged care homes surveyed – only 10 per cent "have a direct care workforce that would meet all three incoming minimum staffing standards."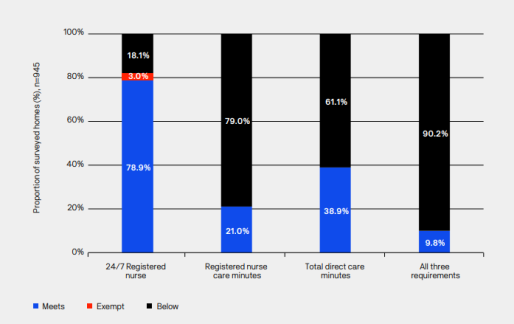 The three staffing standards are:
an average of 200 care minutes per resident per day provided by direct care workers from 1 October
registered nurse delivering at least 40 minutes of that care
24/7 RN onsite coverage.
While the report shows that the boost to Australian National Aged Care Classification funding levels is expected to cover care-related costs – including, from 1 July, the 15 per cent workers' pay rise – homes with a depleted workforce may find themselves struggling.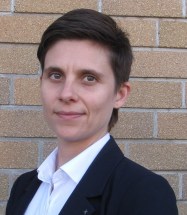 "Critically, labour costs will rise if homes continue to rely on additional overtime and agency workers to fill staffing gaps, particularly for overnight shifts," said lead author Dr Nicole Sutton. "Furthermore, these staffing gaps are substantial. Only 9.8 per cent of surveyed homes currently have enough direct care workers to meet all three incoming minimum staffing standards."
UARC modelling estimates that an additional 12,520 full-time direct care workers will be needed sector-wide to meet the new staffing standards, including 5,911 RNs.

Drawing primarily on StewartBrown's financial performance survey report, the researchers have analysed the sector's mid-year financial results for 2022-23. Despite sizable increases in government funding since the royal commission, the sector's financial woes continue.
Almost two-thirds of providers surveyed – 64 per cent – reported a negative mid-year operating result, with more than half now operating at a loss for two years in a row.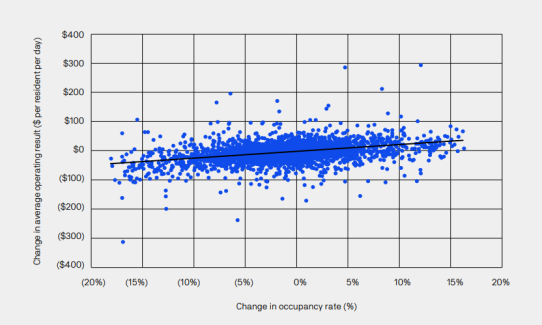 Declining occupancy rates continue to erode the sector's financial performance. On average, homes currently lose $17.47 for each resident per day. UARC's research shows that for every 1 per cent fall in occupancy, a home's average operating result will fall by a further $2.11 per resident per day.
If the trend continues, more providers will likely be forced to exit the sector said Dr Sutton. "Unless the margins of these providers improve, the risk of disruptive market exits persists, which could undermine the continuity of services that many communities rely on."
The 134-page report also paints a bleak picture for non-care services – a situation the authors describe as "particularly dire".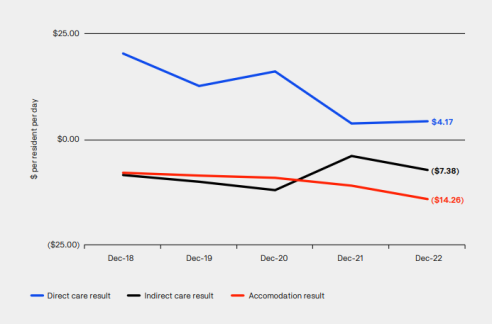 Each day, homes lose an average of $7.38 per resident in providing indirect care services and a further $14.26 for accommodation services.
"While providers may be able to adjust their accommodation pricing over time, the situation requires urgent reform from the government to adjust how people pay for basic daily services and accommodation," said Professor Mike Woods, chair of the report's editorial board.
Meanwhile, the financial performance of delivering home care packages continues to decline. Surveying 60,102 home care packages, the average margin across all packages has fallen to its lowest level – $0.93 per client per day.
"The particularly poor outcomes from delivering lower-level packages raise concerns about the viability of the expected increases in entry-level services in the future unified scheme, to commence in 2025," say the researchers.
Also worrying is the researchers' claim that the sector's long-term sustainability is reaching a "critical point".
Recent budget figures show government spending on aged care is expected to reach 1.5 per cent of gross domestic product by next financial year – more than a decade earlier than a 2021 Treasury forecast.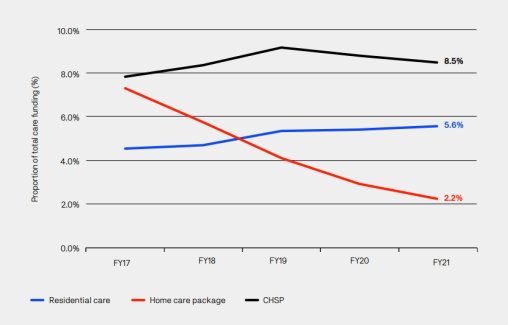 With taxpayers currently providing the vast majority of aged care funding – older people, on average, contribute less than 10 per cent of the cost of their direct care – the researchers say, "creating more equitable and fair payment arrangements for funding aged care is urgently needed."
Dr Sutton and her colleagues are calling for a funding rebalance in the form of co-contributions.
"Recent evidence indicates that people may be willing to forgo inheritances so that their parents can enjoy a safe and comfortable retirement. Such evidence reinforces earlier findings that people may be willing to make greater co-contributions to the cost of their and their family members' care, provided the services are of high quality," say the researchers.
"However, such changes must occur within a broader national conversation about how aged care services will be funded. In future editions of the sector report, UARC will explore each of these issues, providing robust evidence to inform this conversation."
Comment on the story below. Follow Australian Ageing Agenda on Facebook, Twitter and LinkedIn, sign up to our twice-weekly newsletter and subscribe to AAA magazine for the complete aged care picture.