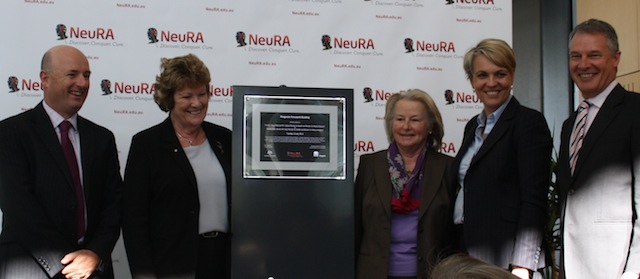 The opening of NeuRA's new research facility – (L to R) NeuRA Chairman Paul Brassil, NSW Minister for Health and Medical Research Jillian Skinner, major donor Margarete (Gretel) Ainsworth, Federal Minister for Health and Medical Research Tanya Plibersek, NeuRA Executive Director and CEO Peter Schofield
By Natasha Egan

A new $54 million brain research facility in Sydney destined to become a central hub for 700 researchers was officially opened on Tuesday by Federal Minister for Health and Minister for Medical Research, Tanya Plibersek, NSW Minister for Health and Minister for Medical Research, Jillian Skinner, and a local philanthropist.
With capacity for 120 scientists, the Margarete Ainsworth Building in Randwick in Sydney's east is the new seven-story home of medical research institute NeuRA (Neuroscience Research Australia), which has been investigating causes and treatments in a range of areas including Alzheimer's disease, dementia, falls, stroke and schizophrenia, for twenty years.
Minister Plibersek said the new building would provide a huge boost to Australia's neuroscience research.
"While Australia has one of the world's best-performing health systems, we need to devise new ways to drive improvements in healthcare delivery.
"This requires well-linked and internationally-competitive medical research – which will be possible in this new precinct in Randwick," Ms Plibersek said.
Minister Skinner said she congratulated NeuRA on its continued leadership in a field which was so valuable to society.
NeuRA Executive Director and CEO Professor Peter Schofield said the new facility would radically increase Australia's capacity to conduct world-class research into brain and nervous system diseases.
"Our challenge and goal is for neuroscience research to reduce the burden of neurological and psychiatric disorders, the healthcare requirements of which grow day by day," Mr Schofield said.
"With an ageing population there has never been a greater need for state-of-the-art facilities like these. With this building, we are bringing together the best minds in science to find cures for these conditions," he said.
Recent NeuRA research programs have involved using Nintendo Wii games for stroke rehabilitation and the development of the tablet app iconFES to better assess a patient's fear and risk of falling.
Community and bipartisan government support
The Margarete Ainsworth Building is the first stage of the neuroscience research precinct in Randwick, which in the future will become a hub housing 700 staff for research and discoveries on diseases that affect the brain and nervous system.
The Neuroscience Research Precinct will link together the research of NeuRA, the University of NSW, the Black Dog Institute, the National Drug and Alcohol Research Centre and the Prince of Wales campus hospitals.
The building has been named in honour of major donor and businesswoman Margarete (Gretel) Ainsworth, who gave $10 million to the facility.
"I have always supported mental illness as it is so terribly devastating to families," Mrs Ainsworth said
When announcing Mrs Ainsworth's gift at the opening ceremony, NeuRA Chairman Paul Brassil said it was a wonderful example of female philanthropy in this country.
"May there be many more," he said.
Mr Brassil further acknowledged the outstanding bipartisan government support NeuRA had received from current and past commonwealth and state governments along with the financial support from other members of the community, which together has enabled NeuRA to achieve this first stage of the research hub.
NeuRa received $32 million from the commonwealth government, $6 million from the NSW state government, and a total of $12 million from philanthropic individuals and organisations.
Minister Skinner said NeuRA would also receive infrastructure funding of $2.2 million per annum for two years through the NSW Government's Medical Research Support Program.
"The NSW Government is committed to providing world-class facilities to support our talented researchers and to ensuring their work translates into practical health outcomes for the people of NSW and those who look to us for care," Mrs Skinner said.
Addressing NeuRA scientists and researchers at the event, Minister Plibersek said: "You are part of something great. You should be proud of yourselves."
Five levels of the building are either wholly or partially completed. The other two levels are awaiting further funding to complete the fit out. Mrs Ainsworth's gift will meet half of the cost of the that fit out.
Building facts
The building has a total gross floor area of approx. 8500sq metres.
Plans include two floors of wet labs and one floor of dry labs, two floors of clinical research facilities, spacious office areas, an expansive atrium entry and staff amenities.
The facility is designed to house two sophisticated MRI scanners for both clinical and research imaging.