Nurses should make up half of the care workforce in residential aged care facilities according to first-of-its-kind research into staffing levels and skill mix released today.
The study by six researchers from Flinders University and the University of South Australia and commissioned by the Australian Nursing and Midwifery Federation (ANMF) found registered nurses should make up 30 per cent of the skill mix in residential care, enrolled nurses 20 per cent and personal care workers the remaining 50 per cent.
They found that residents should receive on average four hours and 18 minutes of care each day, which would represent a significant increase on current direct care provision. Latest industry figures show residents receive on average 2.9 direct care hours, with those in the highest needs category receiving 3.1 care hours.
The elaborate study involved the development of an "evidence-based aged care complexity profile" with indicative care interventions over a 24-hour period, and tested the elements of care associated with various resident profiles through a series of focus groups with aged care nurses.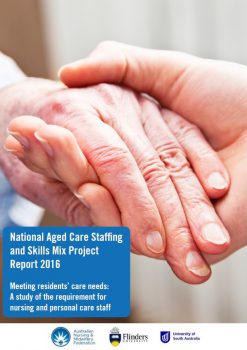 It also determined what care interventions were being missed through a survey of 3,200 aged care nurses and care workers, and confirmed the structure of a residential aged care staffing model with 100 facility managers.
The survey found that staffing levels were the most commonly cited reason for missed care in residential facilities.
Just 8 per cent of staff said that staffing needs were always adequate.
When respondents were asked how many residents they were responsible for on their last shift, the mean ratio was one staff to 38 residents, while RNs managed 59 residents on their last shift.
These numbers were significantly lower in government-owned facilities, the study found.
The researchers said the findings demonstrated that all aspects of care were currently missed at least part of the time, with staffing numbers identified as the major causal factor.
They said:
"This is occurring alongside reduced employment of nursing staff and increasing use of PCWs to deliver many aspects of care."
The reported number of residents cared for on the last shift worked by the respondent was associated with incidents of missed care, with higher resident numbers associated with more missed care.
'Need for action'
The researchers said that the findings "support the need for action to improve staffing levels and skills mix in residential aged care, following the application and evaluation of the staffing methodology in this report."
The ANMF said it had provided the report to the chair of the current Senate inquiry into the aged care workforce which it hoped would legislate minimum staffing levels and skills mix in residential care.
The researchers also said the findings would be used to provide the Aged Care Financing Authority with an evidence base "to inform future staffing levels and skills mix in aged care."
The new study comes a year after a NSW parliamentary inquiry found that current federal laws were not prescriptive enough on staffing requirements in residential aged care (read AAA's story here).
That inquiry called for staff-to-resident ratios in aged care facilities and the licensing of personal care workers.
Read the report here.
Want to have your say on this story? Comment below. Send us your news and tip-offs to editorial@australianageingagenda.com.au 
Subscribe to Australian Ageing Agenda magazine