Aged care workers yet to receive a wage increase will have to wait until next year before they learn whether they too will be included in the deal.
While direct care workers and some non-direct care workers received a 15 per cent pay rise in July, many others in the industry didn't – including administration, maintenance, laundry, cleaning, gardening and catering staff.
"These workers play a central role in the provision of safe, person-centred care and deserve to be valued equally," said the Aged Care Workforce Industry Council in a statement.
Welcoming the commencement of stage three of the Fair Work Commission's aged care work value case, the ACWIC expressed hopes that a decision will come sooner rather than later.
"The quick determination of final pay rises for all aged care workers that properly and equally reflect the value of the work is critical. It is only fair that all workers are rewarded equitably for their efforts, to not do so will continue to undermine team morale and productivity."
However, a transcript of proceedings released by the FWC reveals stage three talks will be continuing into 2024. Union disagreements over classification structures are among the reasons for the time lag.
"There is at the moment significant difference between the union parties as to classification structures," Australian Nursing and Midwifery Federation representative Jim McKenna told the Fair Work Commission. "So it's anticipated that there would need to be a fulsome reply as between the unions which would likely make it difficult to proceed with a hearing in late December as to those classification pay structure issues."
Furthermore – when asked when the Health Services Union would be able to file an amended application – HSU representative Mark Gibian replied: "The most convenient first day would be the week commencing 29 January."
A list of a summary of issues for the stage three proceedings include:
potential changes to the SCHADS Award classification structure
changes to entry level classifications for recreational activity officers
additional RAO classification levels
the creation of a separate classification structure for personal care workers
the creation of a new "experienced PCW" level
the creation of a "specialist PCW" level for those working in dementia and palliative care
moving aged care nurses from the Nurses Award into the Aged Care Award.
While ACWIC's call for a "timely resolution" of the stage three hearings appears unlikely, it said offering all aged care workers a wage increase would nevertheless "positively change the perception of the aged care industry, lift the bar on quality care, and attract more workers to join the sector," said the ACWIC.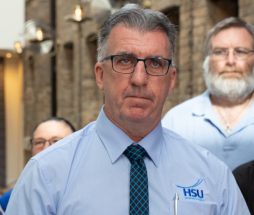 But HSU chief Gerard Hayes told AAA the industry wage boost on its own wasn't enough to tackle the sector's workforce shortfall.
"To date, our work value case has successfully boosted wages and encouraged a trickle of workers to return to the industry," he said. "That's a good start, but it won't be enough to stave off the staffing crisis aged care faces."
Comment on the story below. Follow Australian Ageing Agenda on Facebook, Twitter and LinkedIn, sign up to our twice-weekly newsletter and subscribe to AAA magazine for the complete aged care picture.